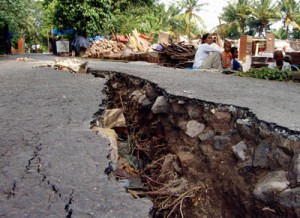 Earthquakes are naturally occurring disasters, when different tectonic plates shift in movement against one another. Where two crusts meet is called a fault-line, and there are several types, such as subduction (which involves an oceanic plate), thrust, slip, oblique, and more. They are graded in a 0.1-10.0 magnitude, and the largest one recorded since 1900 was a 9.5 in Chile in 1977. On March 3, 2011, Japan suffered a 9.0 magnitude earthquake and suffered untold damage.
Owning a kit like the ones below is a great way to attempt being prepared, but no one is ever truly prepared for a disaster. They all include some form of food or water, first aid kit, and more, and vary in sizes for 1-4 person sizes. Each comes in a bag of some sort for easy transport.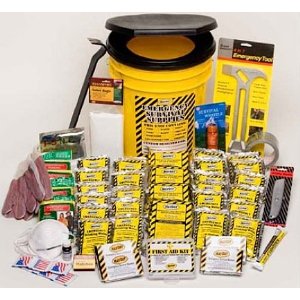 Earthquake Kit – 3 Person Deluxe Home Survival Emergency Preparedness
Site Price: $89.95

Designed for the home or office, this 3-day, 3-person survival kit comes in a 5 gallon container. That container leaves enough room for your own personal additions, and can serve as a water storage container in case of an emergency. It includes lighting, first aid, communication, food, and water in the case of a disaster, and even more, providing the necessities for fire, hurricane, tornado, earthquake, or any man-made event which may occur.