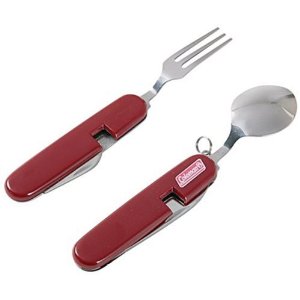 Coleman Camper's Utensil Set
Site Price: $8.52

This Coleman brand multi-tool is the size of a pocket knife. It has a spoon, knife, and fork and packs away easily and discretely for easy portability. It is durably built to last a while. A necessity for any emergency or camping kit.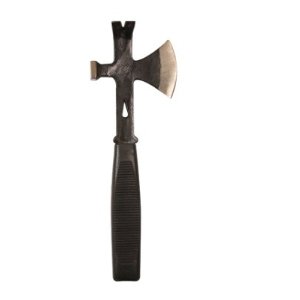 Survival Hatchet
This incredibly durable hatchet has multiple tools and is great if you get stuck somewhere during or after an emergency. It has an axe, hammer, pry bar, nail remover, and hatchet. You can use it to build shelter, free yourself of fallen debris, and more. It's incredibly strong and long lasting.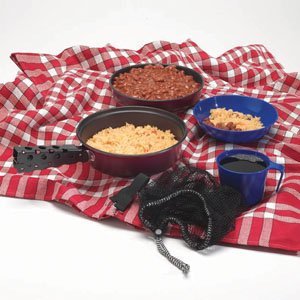 Texsport 5 pc. Kangaroo Mess Kit
This five-piece mess kit is great for camping and emergencies. The sauce and fry pan are made of Teflon for easier cooking. There is a 6 inch bowl, 12 ounce cup, pan gripper, and a mesh storage bag that makes it super small and easy to carry. While the bowl and cup are both plastic, they at least make the haul lighter to carry. Great for having to cook away from your kitchen like during an emergency.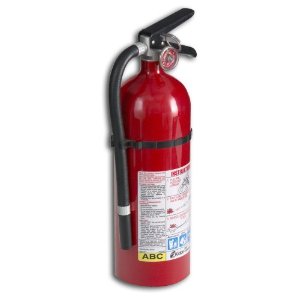 Kidde Pro 210 Fire Extinguisher ABC 160CI
Site Price: $57.48

Fire extinguishers are a must have everywhere. You should have one in your car, bedroom, kitchen, office, and anywhere else you frequent. This fire extinguisher can put on trash, wood, and paper fires, liquids and gas fires, and energized electrical equipment fires.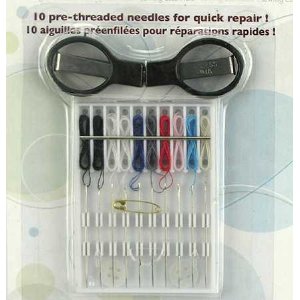 Sewing Essentials, Travel Sewing Kit with Scissor and 10 Threaded Needles
Site Price: $6.95


Another requirement to any first aid kit should be a sewing kit. Not only for clothes, but good for repairing survival equipment like tents and blankets. This kit has folding scissors, 10 threaded needles, and a safety pin, making it quick and easy to mend fabric.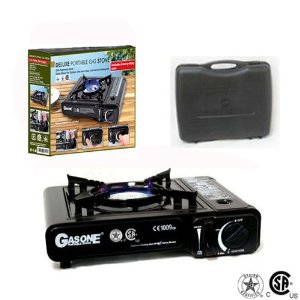 GASONE Portable Gas Stove CSA Approved With Free Carry Case, Gift Box
This incredibly easy to use portable gas stove is perfect for emergencies and camping. It is essential for any emergency. There is a push-button starter so you don't need matches, lighter, or batteries. There is a safety shut off as well, and the storage and carrying case makes it easy to transport and keep clean.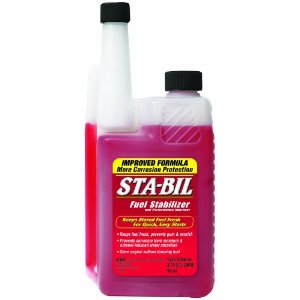 STA-BIL Fuel Stabilizer – 32 FL OZ.
Site Price: $15.06

In the case of a disaster, generators and gas in general are vital in this modern age. Since fuel expires after a while, a fuel stabilizer is necessary to keep the fuel viable for longer. It removes water to prevent corrosion. It protects from gum, varnish rust, and corrosion.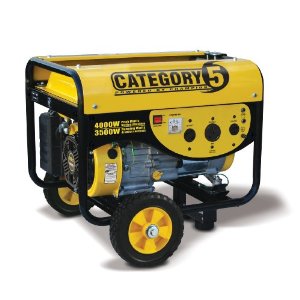 Champion Power Equipment 4,000 Watt 4-Cycle Gas Powered RV Ready Portable Generator with Wheel Kit (CARB Compliant)
Site Price: $379.99

Most generators are not CARB compliant and therefore cannot be sold in California. This generator is sold everywhere in the US. It is a gas-powered, 4-cycle, 4,000 watt portable generator, perfect for accidents. It holds a 4 gallon fuel tank and can road 12 hours at 50% load. It has a low oil sensor to prevent engine damage, and has pre-wired electrical connections for RV if wanted.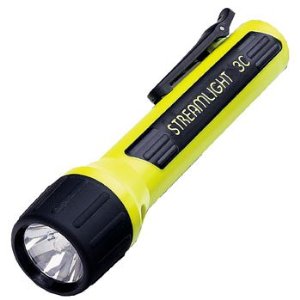 Streamlight 3C Propolymer Luxeon Flashlight, Yellow
Site Price: $44.59

Did you know that if there was a gas leak and you turn on a flashlight, you may cause an explosion? Flashlights create a spark to light the bulb when it is turned "ON". Flashlights such as this one do not create that spark, which is why it is non-incendive. It makes it ultra safe for you during an emergency, instead of chancing an exacerbation.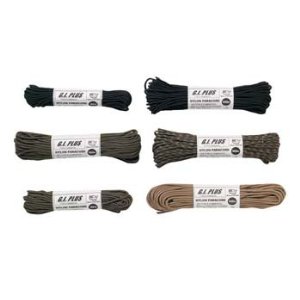 Rothco 550lb. Type III Paracord
Site Price: varies $3.50-15.99

Paracord is a great emergency material. It is a thin string that holds up to 550 pounds of weight before snapping. Many people makes bracelets and lanyards out of this material to condense a large amount and keep it on hand at all times, since you never know when you'll need a strong cord. You can also break apart the strands of the paracord to make fishing line.