This handy emergency preparedness kit has a feature that none of the other available disaster kits offers: a toilet! Do we really consider where we'd leave our refuge during a disaster, when the power is out and we're trapped somewhere without power? Of course we could go behind a bush, but if you have kids, this device is handy. The toilet is actually part of the carrying device, which is a 5-gallon bucket with a toilet seat lid on top.
Inside of the kit (which you'd remove if needed, I hope) you'll find enough food and water supplies to keep four people alive for three days, or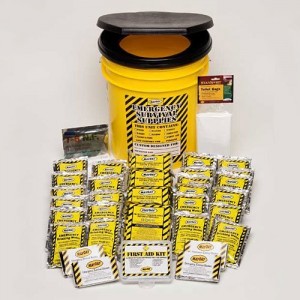 one person alive for twelve days. It includes food, solar blankets, water, dust masks, toilet disinfectant, light stick, wet naps, a flashlight/radio and cell phone charger, utility knife, and more.
This kit is perfect for earthquakes, hurricanes, and almost every other kind of emergency you can think of. Be prepared!
When you need to go, be prepared! One of the major elements you need to keep in mind is food: how are you going to get it? Or cook it? That's why little lightweight s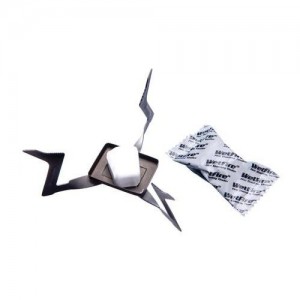 toves like this one, the Wetfire Stove, is great as an addition to any emergency disaster kit or camping pack.
This stove only weighs half an ounce; it folds up to store nicely. The fuel are cubes that won't spill in your bag or cause accidental fires. It can boil a cup of water in 5-6 minutes.
Not only can you use it for cooking food while you're trying to survive, but you can sterilize water by boiling it. It's handy to have something like this when a disaster strikes.

Store Price: $14.41 (normally 17.95)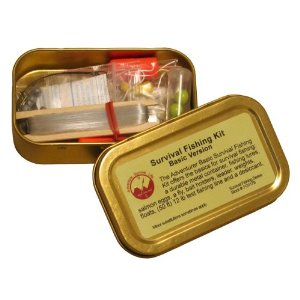 We've all heard the saying: Give a man a fish, he'll eat for the day; teach a man to fish, you feed him for a lifetime.
That's why it's handy to keep thing likes fishing supplies in every emergency kit, including your car. Fishing is a basic necessity when stuck without basic supplies.
The kit comes in a durable waterproof tin and is small, able to fit in any kit or glove compartment. It includes: Tiny Shad Jig, Swirl Tail Grub Jig, 2 1/16 Unpainted Round Jig Heads, Salmon Egg Bait, Moisture absorbing desiccant packet, line, and more.
You can add whatever else you prefer into this little kit that makes fishing for you, personally, easier.

Basic Emergency Survival Fishing Kit
Site Price: $12.95