ResQLadder Three-Story Portable Emergency Escape Ladder, 25 Foot
Site Price: $111.21

What happens if you're in a second story, or maybe third story, room, and you can't get out? Do you drop the 25 foot fall to the ground?
This portable ladder folds up to take the barest amount of room, yet is easy enough to use for a young child. It comes in different sizes, up to 50 feet, perfect for every environment when someone can't jump out a window. Can even support two body weights at once.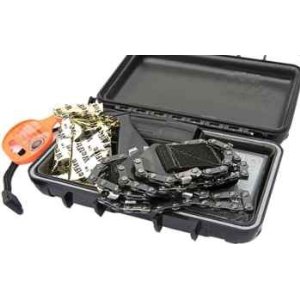 Deluxe Survival Kit Ultimate Survival
Site Price: $58.43

This is a kit that adventure types should keep with them. It includes the best survival and camping gear recommended, from starting fires, to cutting limbs for shelter, and to signal for help. Can fit in a backpack, glove-box, ATV or boat.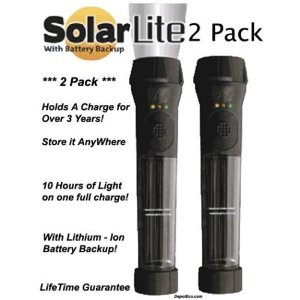 Hybrid Solar Powered Flashlight with Emergency Battery Backup Black (2-pack)
Site Price: $30.95


These flashlights are perfect for emergencies. A fully solar charged flashlight can last 10 hours, and then there are backup emergency batteries which can be used, as well. Does not need to be stored in sun, and temperature changes don't effect it. Very durable.
Life+Gear Wings of Life Backpack with Detachable Wings and LifeEssentials
Site Price: $99.99

This kit includes a neon yellow lightweight backpack with Wings of Life–detachable strips which includes more survival supplies. There are 3 days of supplies included in the kit, including a poncho, blanket, hygiene kit, mirror, first aid kit, writing pad and pen, whistle, compass, magnifying glass, leather/cloth gloves, respirator mask, flashing light, multifunction tool, waterproof document bag. Food and water supplies have a 5 year shelf life.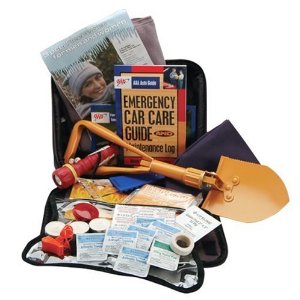 AAA 65-Piece Winter Severe Weather Travel Kit

This emergency kit is perfect for an automobile accident. This kit includes a carrying bag, AAA emergency care guide, AAA membership brochure, plastic flashlight with batteries, three-piece fleece set, folding shovel, ice scrape, LED safety strobe light, survival blanket, emergency candles, hand warmers, 46-piece First Aid kit, and emergency whistle.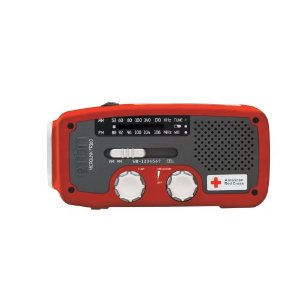 Eton American Red Cross Microlink Self-Powered AM/FM/NOAA Weather Radio with Flashlight, Solar Power and Cell Phone Charger
This little AM/FM radio can run off of solar power or a hand crank, making it perfect for after a disaster. There is also a USB inlet on the side, so that you can charge your phone or other electronic device off of it. There is also a flashlight, made up of 3 built-in LEDs on the side.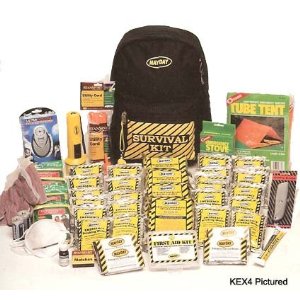 Mayday 1 Person Deluxe Emergency Backpack Kit

This grab-n-go kit is perfect for a single person, whether they store it at home, work, or in their car. It has the backpack, 2400 calorie food bar, solar blanket, pouches of water, dust mask, poncho, flashlight, alkaline "D" batteries, 2 person tent, 50′ nylon cord, light stick, First Aid kit, water purification tablets, waterproof matches, utility knife, whistle, AM/FM radio, camper's stove, and a pair of leather palm gloves.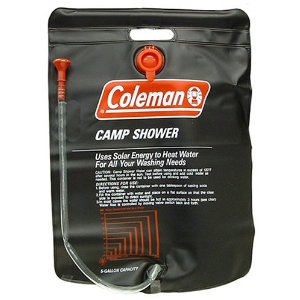 Coleman 5-Gallon PVC Camp Shower
Site Price: $10.90

This hanging bag is black to better absorb sunlight to warm the water inside. It has a on/off valve and includes a 1 year warranty. Holding 5-Gallons, simply let it lie out in the sun, hang, and then use!
Waterproof Matches (2 Boxes of 50)
Site Price: $1.40

These waterproof matches are a must for emergency kits. The base is wooden instead of cardboard and have waterproof heads. The 2 boxes contain 50 matches each for a total of 100 matches. Can even work after being caught in a flood.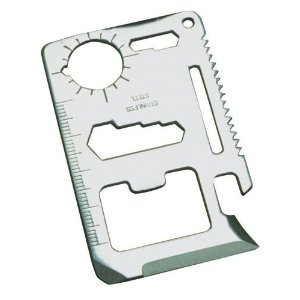 Kikkerland CD401 Classic Survival Tool

This flat survival tool is in the shape of a credit card, small enough to fit into some wallets or to hook in a key chain. It includes a carrying pouch and has a total of 11 functions: can opener, knife edge, screwdriver, 4 position wrench, butterfly screw wench, saw blade, 2 position wrench, key chain hole, bottle opener, direction auxiliary indication.