When you need to go, be prepared! One of the major elements you need to keep in mind is food: how are you going to get it? Or cook it? That's why little lightweight s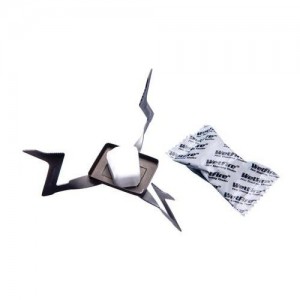 toves like this one, the Wetfire Stove, is great as an addition to any emergency disaster kit or camping pack.
This stove only weighs half an ounce; it folds up to store nicely. The fuel are cubes that won't spill in your bag or cause accidental fires. It can boil a cup of water in 5-6 minutes.
Not only can you use it for cooking food while you're trying to survive, but you can sterilize water by boiling it. It's handy to have something like this when a disaster strikes.

Store Price: $14.41 (normally 17.95)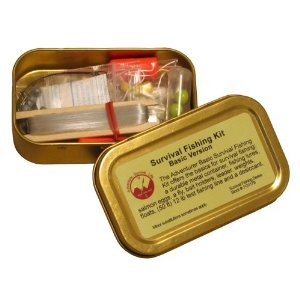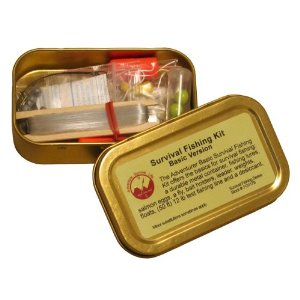 We've all heard the saying: Give a man a fish, he'll eat for the day; teach a man to fish, you feed him for a lifetime.
That's why it's handy to keep thing likes fishing supplies in every emergency kit, including your car. Fishing is a basic necessity when stuck without basic supplies.
The kit comes in a durable waterproof tin and is small, able to fit in any kit or glove compartment. It includes: Tiny Shad Jig, Swirl Tail Grub Jig, 2 1/16 Unpainted Round Jig Heads, Salmon Egg Bait, Moisture absorbing desiccant packet, line, and more.
You can add whatever else you prefer into this little kit that makes fishing for you, personally, easier.

Basic Emergency Survival Fishing Kit
Site Price: $12.95
No suturing required! This kit is perfect as an addition to a First Aid kit for your emergency preparedness. When someone keeps injured, this kit can help clean out the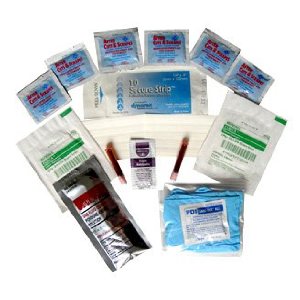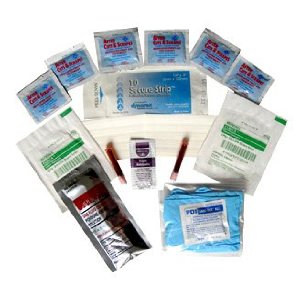 wound and close it to provide immediate care for an injured person.
This kit includes an irrigation syringe (solution not included, since it expires), wound closure strips, Benzoin Topical Adhesive, Wipes, Providone Iodine, triple antibiotic ointment, and sterile dressing gauze.
Remember: clean your wounds! Debris and bacteria is easy to get into an open wound, so keep one of these kits on hand.
These things are so small and easy to transport, it's amazing how much of a life-saver they can be during a disaster or emergency. They're little bags that, when activated, can produce up to 135 degrees Fahrenheit. The little, slim bags are the perfect size to slip into a pair of gloves or shoes, keeping your toes and hands from freezing.
On average, they last about 4-7 hours, depending on how long they've been in storage. They should be in every survival kit, whether for earthquakes, tsunamis, or fires, because at night, every where can be cold. Prevent hypothermia with these hand devices, or just use them when you're skiing or snowboarding for extra comfort (that's what I've done before).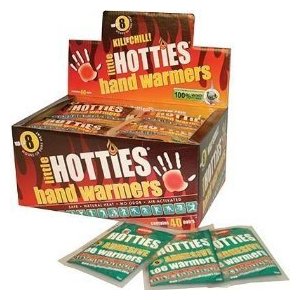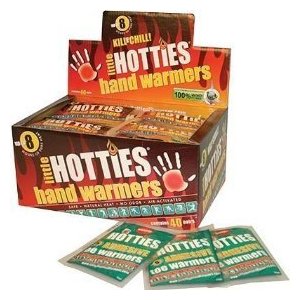 This supply of hand warmers includes 40 pairs, plus 3 toe warmers. Enjoy maximum heat in the coldest of weather with these handy devices.
With storm season fast approaching, it's a wise idea to have on hand some type of flare-gun. It makes you easy to find, no matter where you are.
This Orion Safety Alerter Coastal Signalling Kit can launch a flare 500′ into the air. It is USCG approved to work in both day and night. The flare itself lasts up to 7 seconds, and everything about it surpasses US Coast Guard requirements.
Included in this package: 1 12-guage Safety Launcher, which can shoot the flare signals up to 500′; and 4 12-guage Red Aerial Flares, lasting 7 seconds and burning at 16,000 candela.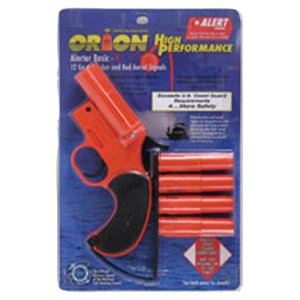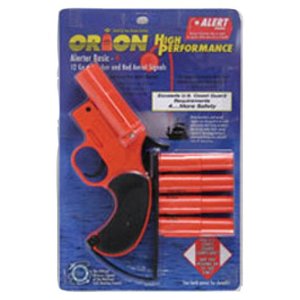 No one knows how a disaster will effect the world around them. You may lose access to gas and electricity, especially if you're on the road when it happens. leaving you stranded and starving. If you can't get back to your house, your matches are wet, and you're absolutely starving, what can you do but try to prepare your own food?
That's where these little portable stoves come in handy. Yes, they're actually meant for camping, but the compact size, easy-to-carry and light-weight design make them ideal for emergency survival too. This one is a single burner, making it even smaller than regular portable stoves, and runs off a small propane tank.
The Coleman PowerPack Stove can use 7,500 BTU and has a range of high to low heat. The propane is controlled via PerfectFlow, keeping the pressure at an even level. It's super light-weight and becomes a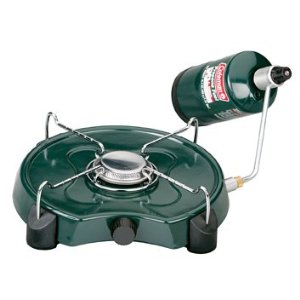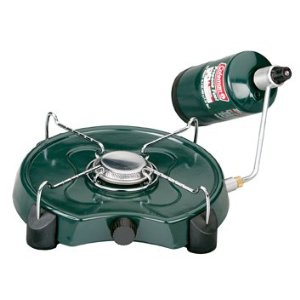 small square when packed away.
The size makes it perfect to stash in a car, motorhome, or survival kit. Don't worry about not being prepared again!
Coleman PowerPack 1-Burner Stove
Site Price: $34.99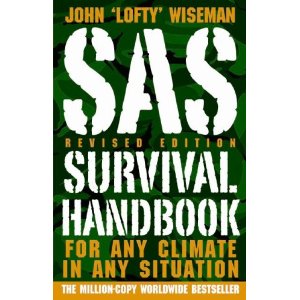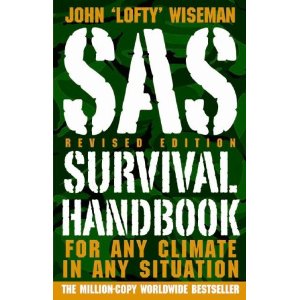 SAS Survival Handbook, Revised Edition: For Any Climate, in Any Situation
by John 'Lofty' Wiseman
Site price: $12.18

This book is one of the most popular in the genre. It tells you what to put in a survival kit, how to construct shelter, create tools, what to eat and what to avoid. There are basic emergency and wilderness medicine tips, and how to survive if services and supplies are cut off at home.
The author, John 'Lofty' Wiseman, served in British Special Air Service (SAS) for 26 years.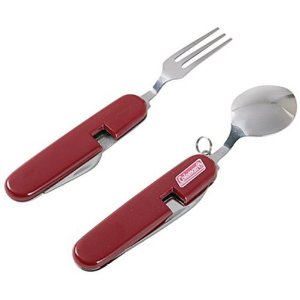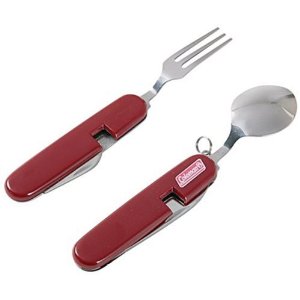 Coleman Camper's Utensil Set
Site Price: $8.52

This Coleman brand multi-tool is the size of a pocket knife. It has a spoon, knife, and fork and packs away easily and discretely for easy portability. It is durably built to last a while. A necessity for any emergency or camping kit.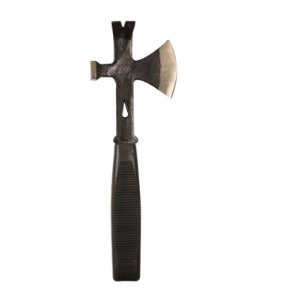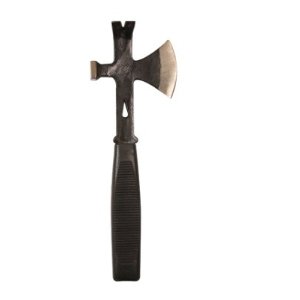 Survival Hatchet
This incredibly durable hatchet has multiple tools and is great if you get stuck somewhere during or after an emergency. It has an axe, hammer, pry bar, nail remover, and hatchet. You can use it to build shelter, free yourself of fallen debris, and more. It's incredibly strong and long lasting.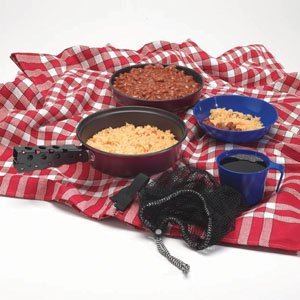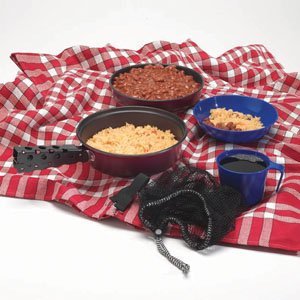 Texsport 5 pc. Kangaroo Mess Kit
This five-piece mess kit is great for camping and emergencies. The sauce and fry pan are made of Teflon for easier cooking. There is a 6 inch bowl, 12 ounce cup, pan gripper, and a mesh storage bag that makes it super small and easy to carry. While the bowl and cup are both plastic, they at least make the haul lighter to carry. Great for having to cook away from your kitchen like during an emergency.