This kit is perfect for every kind of disaster preparedness. It can be for four people for 72 hours, or one person for 288. It's in a handy grab-and-go bag that is durable, and everything inside covers your basic needs.
There are 48 200-calorie food bars with a 5 year shelf life, 40 water purification tablets, flashlights, survival whistle, tube tents, mylar sleeping bags, fire starter, fuel tablets, light sticks, can opener, candles, large fist aid kit, and so much more.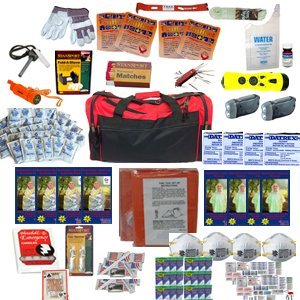 Don't be stuck without the emergency supplies you'll need!

4 Person Survival Kit Deluxe Perfect Earthquake, Evacuation, Emergency Disaster Preparedness, 72 Hour Kits for Home, Work or Auto
Site price: $199.95 (regularly $360)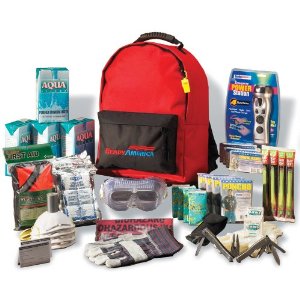 Ready America Grab 'N Go Deluxe 4 Person Backpack
Site Price: $119.88

This bright red backpack makes it easy to see in the dark after an emergency, and easy to grab and go with. You never know when or where a disaster will strike, whether at home, at work, or in your car, so be prepared!
Make sure you have enough supplies for everyone in your family, and it's always best to go big, which is why this 4-person emergency survival kit is a great way to go. Even if its just one person, the food and water supplies, plus masks, whistle, and tools, can last 12 days for one person, or 3 days for 4 people.
There are several other additions in this kit, so make sure to check it out.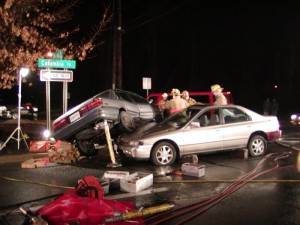 An emergency is most likely to happen while you're away from home and in your car. Also, in the case of an accident or road trip, these types of supplies should always be kept for an emergency. They all contain some form of a first aid kit, road side assistance help, and some offer a little more.
How prepared will you be if an accident or disaster occurs?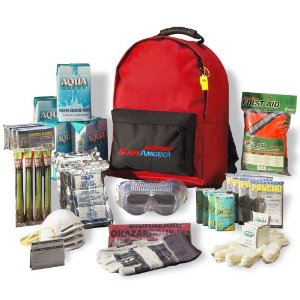 Ready America Grab N Go Essentials 4 Person Backpack
Site Price: $89.99

Are you ready for a disaster? Honestly, no one is, no matter how prepared you are. That's why companies put together grab and go kits. This one comes in a backpack, and holds the recommended supplies for 4 people for 3 days as by the American Red Cross. There is water, food, ponchos, blankets, light sticks, gloves, masks, and more. It's great for hurricanes, earthquakes, floods, and any general emergency imaginable.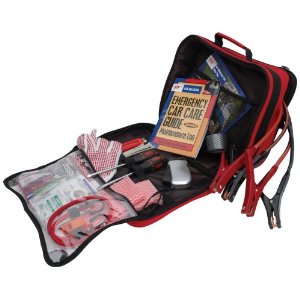 AAA 70 Piece Explorer Road Assistance Kit
This emergency supplies kit was made by AAA and Lifeline. The first aid kid has 45 pieces. Included is a booster cable, LED flashlight, emergency whistle, and bag. It's small and compact, perfect for your car.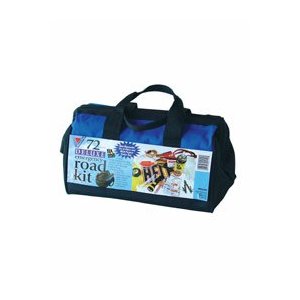 Deluxe Emergency Road Kit (Bagged)
Site Price: $24.19



Cars inevitably break down, or someone gets injured while out and about. Don't be stranded with a disabled vehicle, unless you have an emergency road/safety kit. It contains all the essentials for fixing common car break downs, like tire inflator and sealant, road flares, ponchos, and more!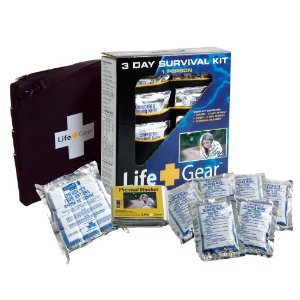 Life+Gear Life Essentials 3-Day Survival Kit, Black and Yellow
Site Price: $22.00

When disaster strikes, where will you be? This small kit includes US Coast Guard approved supplies of water and food, both with 5 year shelf lives and last you 3 days in an emergency. The thermal blanket captures 80 percent body heat, keeping you warm in the cold, The grab and go carrying case has a shoulder strap, making it easy to travel with in an emergency.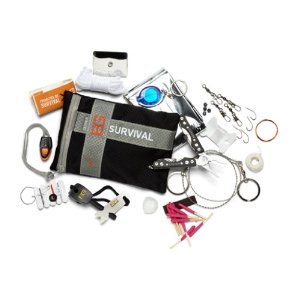 Gerber Bear Grylls Survival Series Ultimate Kit
Site Price: $37.54
When you're out camping, you never know what can happen. This is a perfect kit to keep in your car on the go, or in your backpack while camping. It includes fifteen pieces for survival, such as a mini multi-tool, a fire starter, survival blanket, and wire cutter. The lightweight bag is waterproof. It's small and compact, but has everything you  need to survive.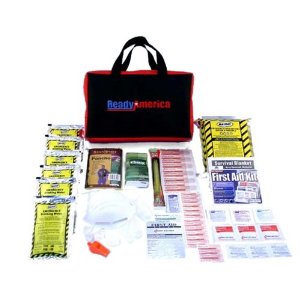 Quakehold! Grab-N-Go Emergency Kit, 1-Person 3-Day Bag

This emergency survival kit is person for one person and three days. It includes food, water, and poncho for all three days. The included First Aid kit has 33 pieces, and the lightstick provides light in emergencies. The carrying case/bag is convenient, making it easy to grab when you have to run.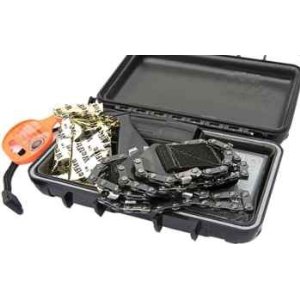 Deluxe Survival Kit Ultimate Survival
Site Price: $58.43

This is a kit that adventure types should keep with them. It includes the best survival and camping gear recommended, from starting fires, to cutting limbs for shelter, and to signal for help. Can fit in a backpack, glove-box, ATV or boat.