Looking for a portable generator that includes a wheel kit? The DuroMax Gas Powered Generator offers a wheel kit to boost the portability aspect, yet still has 4,400 watts for your electric needs.
This baby boast a 4 gallon gas tank and runs about eight hours. It uses an electric key to start it and includes a battery, and it also has an automatic low-oil shut off. It's quite handy.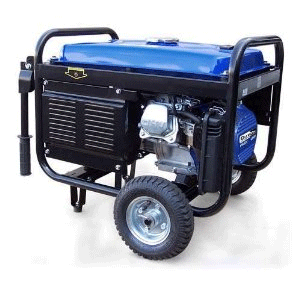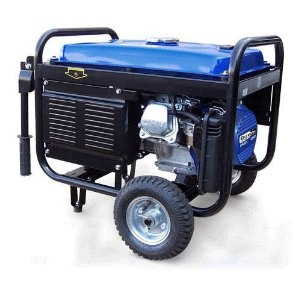 Even though it can reach 4400 watts, it runs continuously at 3500 with the 7.0 horsepower air-cooled OHV engine. The heavy-duty steel frame roll cage has a four-point fully isolated motor mount. It also includes a one-year limited warranty, which is nice.

Need a portable generator that can run up to 10 hours with just 20 pounds of fuel? A propane powered generator lasts longer—and the fuel is less expensive—than a gas-powered generator.
This Sportsman 4,000 Watt Propane generator features an engine with 7 horsepower OHV. The generator itself offers two 120-volt AC outlets and one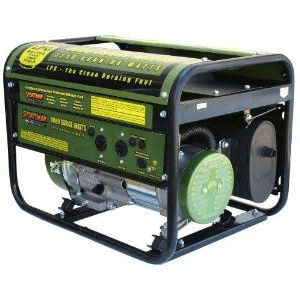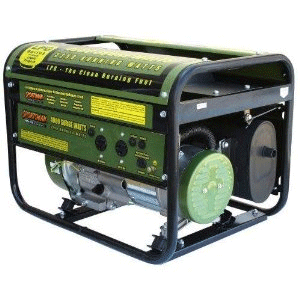 12-volt DC outlet.
This little generator is perfect when you want to go camping, or if there is an emergency and the power goes out. It's perfect.
Sportsman 4000 Watt 7HP OHV Propane Powered Portable Generator
Looking for a powerful portable generator? The DuroStar 4000 watt generator offers long-lasting power with a 7.0 horsepower air-cooled overhead valve engine. It can last up to eight hours and offers a 4-gallon fuel tank, which makes this device a little heavier than other portable generators but it cranks out more voltage and watts.
It has a recoil start, a quiet muffler, and an automatic low-oil shutoff. It includes a tool kit and operation instructions directly from the box.
The generator has two 120-volt, 20-amp, 3-prong outlets to plug things into, as well as a 120-volt, 30-amp outlet for high-power tools.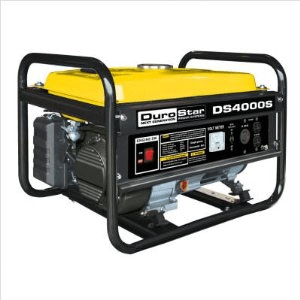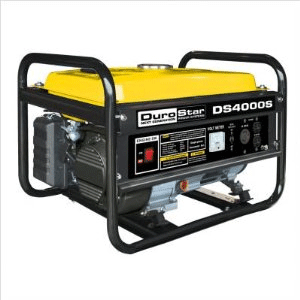 This generator is great in case there is an emergency and the power goes out. We rely so heavily on electricity that you need one, just in case!

Humanity is dependent on electricity and power. So what happens if your area loses power during an emergency or natural disaster?
Many people invest in a portable generator, and this one is lightweight and portable, perfect for camping or for an emergency kit. The All Power America boasts 2,000 watts and uses a 4-stroke engine. This does away with the oil and gas mixture 2-stroke engines require, so it's less of a hassle on you.
It can last for a total of nine hours off of 1.32 gallons of unleaded gasoline, making this generator easy to use and easily transportable. It has 3 horse power and gives off 122.5 volts,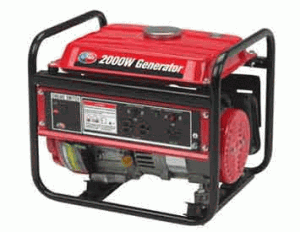 which is handy.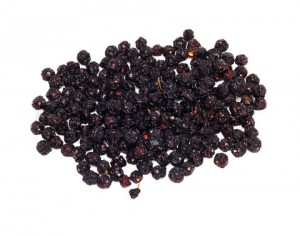 Dried and dehydrated cherries are excellent snack foods and can be eaten just like raisins – as a nice, healthy and nutritious snack. They can also be used in baked goods, such as in muffins, bread, pancakes, or other items like this that allows you to add a little bit of cherry to something to make it more delicious!
Wash your cherries and remove any stems or pits.
Boil a pot of water and drop your cherries into the already boiling water for no more than 2 minutes – the skin will crack. Drain. Unlike blueberries, you do not have to rush them into ice water.
Dehydrate your cherries in your dehydrator for 13-20 hours.
Store your cherries in a clean, dry, and airtight container in a cool dark place.
How to rehydrate dried cherries:
Soak in hot water for 15 minutes.
Anywhere that you might use a raisin, you can also use a cherry. They are fairly versatile and go great in baked goods – or just as a nutritious little snack! An excellent item for storing in your pantry.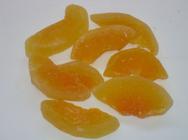 Dried Cantaloupe might not be something you would think of right away in dried fruits, but it makes great snack food as well as a great addition in trail mix that will help spruce up your trail mix with a little extra something.
Remove the cantaloupe's rind and seeds – which can be saved for planting if your own garden if you are interested!
Cut the cantaloupe into bite-sized pieces about 1/4″ thick, or into thin wedges.
Dry the cantaloupe in your dehydrator for 10-16 hours at 135 degrees F.
Store dried cantaloupe in a clean, dry, and airtight container out of light.
It's not recommended that you rehydrate cantaloupe. Just use it as a snack or as an addition to a trail mix.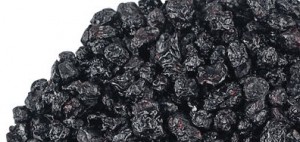 Blueberries are an excellent item for your home preserves for emergency supplies – or just as a nice addition to everyday meals or baked goods. Dried blueberries are great in dried oats or oatmeal, or even in trail mixes. They also do not need to be rehydrated to be used in baking – such as in muffins, breads, pancakes, waffles, scones, or in so many other goods. You can also use them in home-made herbal tea.
Wash and drain your blueberries.
Remove the stems of your blueberries.
Drop blueberries into already boiling water and let them boil until the skins crack. As soon as they crack, drain them and them immerse them in ice water so they stop cooking.
Drain and place the boiled blueberries on cookie sheets in the freezer until frozen.
Once frozen, dry them in your dehydrator for approximately 6-10 hours.
Store your dried blueberries in a clean, airtight, and dry container in a cool, dark location.
How to Rehydrate:
Soak in hot water for 15 minutes.
While dehydrating blueberries takes a little more work than other fruits, it is well worth the effort to have a container of dried blueberries handy to use – even if its just to make some fantastic blueberry muffins!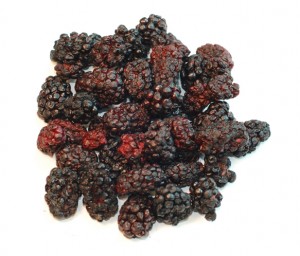 Blackberries are a little tricky, but can prove a nice addition to your collection of dehydrated and preserved goods. Often, blackberries are loaded with seeds, so you may want to rehydrate them, puree them, and strain out the seeds.
Wash and pat berries dry.
Removes the stems from the blackberries.
Use your dehydrator to dry your blackberries at 100 degrees F for about 10 hours – you want them to be brittle when done.
Store your dried blackberries like all dried goods, in a dry, airtight container in a cool, dark place.
How to rehydrate:
Soak in hot water for 15 minutes.
You can use blackberries on ice cream, or in muffins or scones, or you can add them to trail mix. The Puree can be used in a number of ways as well – to make sauces and syrups, or to make your own cordial.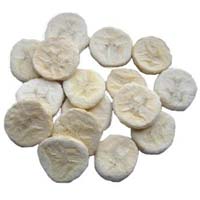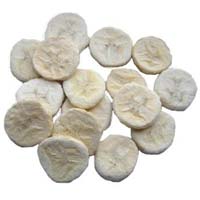 Dried banana chips are an often favorite among dehydrated fruits. They are easy to eat and quite delicious, containing many good nutrients. Dried bananas can go in in trail mixes as well. Rehydrated banana chips are great in muffins, bread, oatmeal, pancakes, and in many other recipes that might call for fresh bananas. You can easily use older bananas to use for this as well – they do not need to be extremely fresh, just not overly squishy.
Peel your bananas.
Slice your bananas into 1/4 slices. You could make them thicker, but it will take longer.
Pretreat your bananas in Fresh Fruit Produce Protector solution or in pineapple juice.
Dehydrate your bananas in your dehydrator at 130 Degrees F for approximately 6-10 hours, until nice and crispy.
Store your banana chips in a clean and air tight container in a dark and cool location.
How to rehydrate:
Soak in hot water for 10 minutes.
Dehydrated bananas are extremely easy to make and can have many uses for you should it come down to it – and can easily be used even if an emergency doesn't occur! 🙂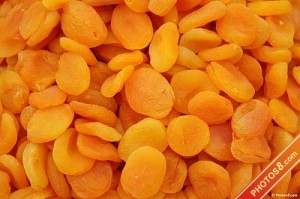 Apricots are a delicious and sweet item you can easily dehydrate and preserve in order to add to your prepper collection. They go fantastic as just snacks all on their own, but they can also be used for baking, in trail mixes, or to dress up oats or cereal.
Wash your apricots.
Cut your apricots in half to remove the pits. You can also chop them into quarters, slices, or cubes as well.
Dry them in a dehydrator, skin side up, at 100 degrees F for approximately 48 hours.
Store in a nice, dark place in airtight, dry, and clean containers. Keep in mind that light will damage them.
How to rehydrate:
Soak for 15 minutes in hot water.
Whether rehydrated or dehydrated, apricots can have a fantastic affect on your dishes, adding wonderful flavor to what might be an ordinary, drab meal – plus they are nutritious and easy to preserve!