These things are so small and easy to transport, it's amazing how much of a life-saver they can be during a disaster or emergency. They're little bags that, when activated, can produce up to 135 degrees Fahrenheit. The little, slim bags are the perfect size to slip into a pair of gloves or shoes, keeping your toes and hands from freezing.
On average, they last about 4-7 hours, depending on how long they've been in storage. They should be in every survival kit, whether for earthquakes, tsunamis, or fires, because at night, every where can be cold. Prevent hypothermia with these hand devices, or just use them when you're skiing or snowboarding for extra comfort (that's what I've done before).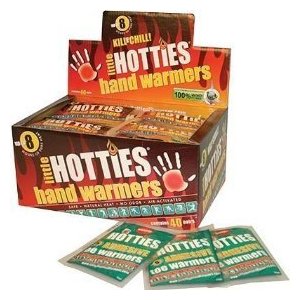 This supply of hand warmers includes 40 pairs, plus 3 toe warmers. Enjoy maximum heat in the coldest of weather with these handy devices.
With storm season fast approaching, it's a wise idea to have on hand some type of flare-gun. It makes you easy to find, no matter where you are.
This Orion Safety Alerter Coastal Signalling Kit can launch a flare 500′ into the air. It is USCG approved to work in both day and night. The flare itself lasts up to 7 seconds, and everything about it surpasses US Coast Guard requirements.
Included in this package: 1 12-guage Safety Launcher, which can shoot the flare signals up to 500′; and 4 12-guage Red Aerial Flares, lasting 7 seconds and burning at 16,000 candela.