This handy emergency preparedness kit has a feature that none of the other available disaster kits offers: a toilet! Do we really consider where we'd leave our refuge during a disaster, when the power is out and we're trapped somewhere without power? Of course we could go behind a bush, but if you have kids, this device is handy. The toilet is actually part of the carrying device, which is a 5-gallon bucket with a toilet seat lid on top.
Inside of the kit (which you'd remove if needed, I hope) you'll find enough food and water supplies to keep four people alive for three days, or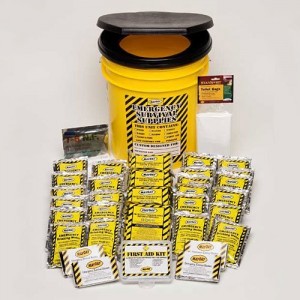 one person alive for twelve days. It includes food, solar blankets, water, dust masks, toilet disinfectant, light stick, wet naps, a flashlight/radio and cell phone charger, utility knife, and more.
This kit is perfect for earthquakes, hurricanes, and almost every other kind of emergency you can think of. Be prepared!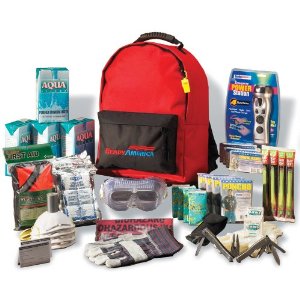 Ready America Grab 'N Go Deluxe 4 Person Backpack
Site Price: $119.88

This bright red backpack makes it easy to see in the dark after an emergency, and easy to grab and go with. You never know when or where a disaster will strike, whether at home, at work, or in your car, so be prepared!
Make sure you have enough supplies for everyone in your family, and it's always best to go big, which is why this 4-person emergency survival kit is a great way to go. Even if its just one person, the food and water supplies, plus masks, whistle, and tools, can last 12 days for one person, or 3 days for 4 people.
There are several other additions in this kit, so make sure to check it out.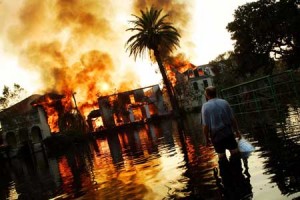 Hurricanes can be devastating if you aren't prepared. Hurricane kits include waterproof or water-resistant supplies so that you have everything you need after a hurricane. With winds going at least 74 mph and rain hailing down, nothing is completely safe from the devastation. We all saw the horrible aftermath of Hurricane Katrina, and the decimation of an entire city, New Orleans. How would you survive?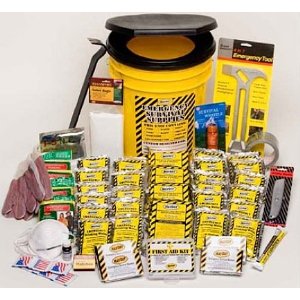 Earthquake Kit – 3 Person Deluxe Home Survival Emergency Preparedness
Site Price: $89.95

Designed for the home or office, this 3-day, 3-person survival kit comes in a 5 gallon container. That container leaves enough room for your own personal additions, and can serve as a water storage container in case of an emergency. It includes lighting, first aid, communication, food, and water in the case of a disaster, and even more, providing the necessities for fire, hurricane, tornado, earthquake, or any man-made event which may occur.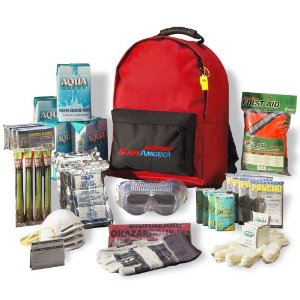 Ready America Grab N Go Essentials 4 Person Backpack
Site Price: $89.99

Are you ready for a disaster? Honestly, no one is, no matter how prepared you are. That's why companies put together grab and go kits. This one comes in a backpack, and holds the recommended supplies for 4 people for 3 days as by the American Red Cross. There is water, food, ponchos, blankets, light sticks, gloves, masks, and more. It's great for hurricanes, earthquakes, floods, and any general emergency imaginable.
Life+Gear Wings of Life Backpack with Detachable Wings and LifeEssentials
Site Price: $99.99

This kit includes a neon yellow lightweight backpack with Wings of Life–detachable strips which includes more survival supplies. There are 3 days of supplies included in the kit, including a poncho, blanket, hygiene kit, mirror, first aid kit, writing pad and pen, whistle, compass, magnifying glass, leather/cloth gloves, respirator mask, flashing light, multifunction tool, waterproof document bag. Food and water supplies have a 5 year shelf life.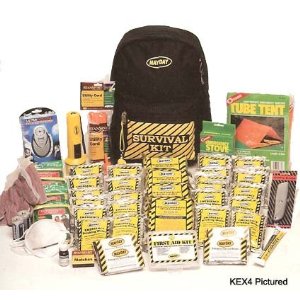 Mayday 1 Person Deluxe Emergency Backpack Kit

This grab-n-go kit is perfect for a single person, whether they store it at home, work, or in their car. It has the backpack, 2400 calorie food bar, solar blanket, pouches of water, dust mask, poncho, flashlight, alkaline "D" batteries, 2 person tent, 50′ nylon cord, light stick, First Aid kit, water purification tablets, waterproof matches, utility knife, whistle, AM/FM radio, camper's stove, and a pair of leather palm gloves.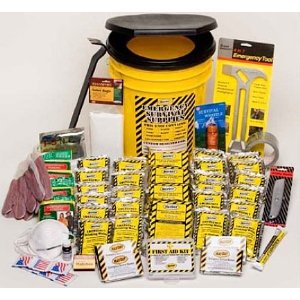 Earthquake Kit – 4 Person Deluxe Home Survival Emergency Preparedness
Site Price: $91.25



This deluxe kit can keep 4 people through 3 days in an emergency situation, especially during earthquakes. It has all the emergency food, water, shelter, sanitation, fird aid, lighting, and communication supplies necessary for surviving after a major disaster. 4 2400-Calorie food bars; 4 solar blankets; 24 pouches of water; 4 dust maks; 4 ponchos; 1 12-pack of liners; 1 12-hour light stick; 1 54-piece first aid kit; 50 water purification tablets; 50 waterproof matches; 1 utility knife; 1 5-in-1 whistle; no battery flashlight;radio w/ cell phone charger; 6 wetnaps' 1 pair leather palm gloves; 1 gas/water shut off tool; 1 t-5 chemical disenfectant; 1 15″ pry bar; 1 roll Duct tape. All food/water has 5 year shelf life, and are safe for vegetarians and anyone allergic to nut oils.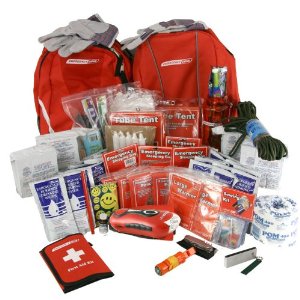 Survivor Emergency Kit-4 Person, Emergency Zone Brand, Disaster Survival Kit, 72 Hour Kit
Site Price: $182.99
This kit is a necessity for a 4-person family or home. It can also be kept in cars, because you  never know when you are going to be during an emergency. With 1 organizational backpack and 1 large backpack, this kit also provides: a 48 page How to Prepare for Any Disaster booklet; water with a shelf life of 5 years, plus 50 water purification tables; AM/FM radio/ flashlight with a rechargeable hand crank; 4 8-hour light sticks; firestarter; 4 reflective sleeping bags; 4 ponchos; 2 tube tents (2 people each); 20 hour liquid candle; 4 3600-calorie food bars with 5 year shelf life; 24 water pouches; 1 multi-tool knife, 1 5-in-1 whistle, 1 50 ft. rope; 2 pairs working gloves; 4 dust masks; 1 deluxe first aid kit; 1 hygiene kit (4 toothbrushes, toothpaste, comb, washcloth, 10 tissues, 24 wet naps, shampoo); 1 roll toilet paper; 1 note pad, pencil, and sewing kit.
It also has checkless and preparedness tips.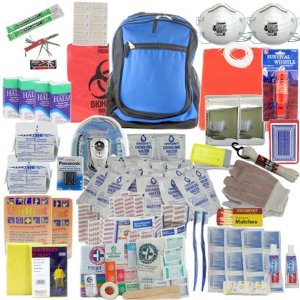 Deluxe 2-Person by SurvivalKitsOnline Perfect Survival Kit for Emergency Disaster Preparedness for Earthquake, Hurricane, Fire, Evacuations, Auto, Home and Family
Site Price: $99.95
This kit comes with a deluxe hikers backpack with enough space for personal items, such as prescriptions. Includes: 6 pocket hiker's backpack; 24 pouches of Datrex water (5 year life shelf); 24 200 calorie Datrex food bars; 20 Water purification tables  (1 liter of water); flashlight and AM/FM radio with headphones; 5-in-1 survival whistle with compass, signal, mirror, flint starter, waterproof container, lanyard, and shrill whistle; 2 emergency green glow light sticks that last 12 hours; 1 box of 50 waterproof matches; survival sleeping bag (better than space blankets); 2-16 hour body warmers; 1-2 person tube tent with rope; 2 ponchos; 16 function knife; working gloves; 2 dust masks; 50 feet nylon rope; 2 hygiene kits including soap, toothbrush, toothpaste, and 9 wet wipes; pocket tissues; First-Aid kit.