Preparing for a disaster is essential to protect yourself and your loved ones. Building a well-stocked and comprehensive disaster kit is a crucial step towards being prepared. In this guide, we will provide practical tips, actionable advice, and reliable resources to help you build the ultimate disaster kit.
Start with the Basics:
Water Storage: Aim to store at least one gallon of water per person per day for a minimum of three days. Consider adding water purification tablets or a water filtration system.
Long Term Food: Opt for non-perishable items like canned goods, granola bars, and dried fruits. Don't forget a manual can opener.
Medications and First Aid: Include a well-stocked first aid kit, prescription medications, and any necessary medical supplies.
Shelter and Clothing:
Shelter: Have a tent, sleeping bags, or emergency blankets to provide shelter during evacuation or emergencies.
Clothing: Pack durable clothing suitable for various weather conditions, including rain gear, warm layers, and sturdy shoes.
Tools and Supplies:
Flashlights and Batteries: Keep several flashlights with extra batteries readily available.
Multi-Tools: A versatile tool that combines various functions like pliers, a knife, and a screwdriver can be indispensable.
Whistle and Signal Mirror: These can help attract attention if you're lost or need to signal for help.
Duct Tape and Plastic Sheeting: These items can be used for temporary repairs and improvisation.
Cash: Keep a small amount of cash in case ATMs are unavailable during a disaster.
Communication and Documentation:
Battery-powered or Hand Crank Radio: Stay informed about the latest news and emergency updates.
Cell Phone Charger: Have a portable charger or a solar-powered charger to keep your cell phone operational.
Important Document Storage: Gather important documents like identification, insurance policies, and contact information in a waterproof container.
Personal Hygiene and Sanitation:
Personal Hygiene Items: Include items such as toothbrushes, toothpaste, hand sanitizer, and feminine hygiene products.
Sanitation Supplies: Stock up on toilet paper, trash bags, and disinfectant wipes to maintain cleanliness.
Additional Considerations:
Pet Supplies: If you have pets, include food, water, medications, and any necessary documents.
Entertainment and Comfort: Include books, playing cards, or other small games to keep spirits high during stressful times.
Emergency Contact List: Write down important phone numbers and addresses in case your electronic devices are not accessible.
Reliable Resources:
Ready.gov: The official website of the U.S. Department of Homeland Security provides comprehensive information on disaster preparedness.
American Red Cross: Visit redcross.org for a wealth of resources, including emergency planning guides and first aid tips.
FEMA: The Federal Emergency Management Agency offers valuable guidance on disaster preparedness and response at fema.gov.
Building a disaster kit is an essential step in preparing for emergencies. By following the practical tips, actionable advice, and utilizing reliable resources provided in this guide, you can create an ultimate disaster kit that will help you and your loved ones stay safe and resilient during challenging times. Remember to regularly check and update your kit to ensure its effectiveness. Being prepared is the key to successfully navigating through any disaster or emergency.
This handy emergency preparedness kit has a feature that none of the other available disaster kits offers: a toilet! Do we really consider where we'd leave our refuge during a disaster, when the power is out and we're trapped somewhere without power? Of course we could go behind a bush, but if you have kids, this device is handy. The toilet is actually part of the carrying device, which is a 5-gallon bucket with a toilet seat lid on top.
Inside of the kit (which you'd remove if needed, I hope) you'll find enough food and water supplies to keep four people alive for three days, or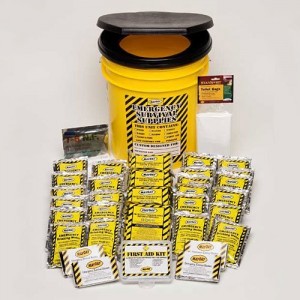 one person alive for twelve days. It includes food, solar blankets, water, dust masks, toilet disinfectant, light stick, wet naps, a flashlight/radio and cell phone charger, utility knife, and more.
This kit is perfect for earthquakes, hurricanes, and almost every other kind of emergency you can think of. Be prepared!
This kit is perfect for every kind of disaster preparedness. It can be for four people for 72 hours, or one person for 288. It's in a handy grab-and-go bag that is durable, and everything inside covers your basic needs.
There are 48 200-calorie food bars with a 5 year shelf life, 40 water purification tablets, flashlights, survival whistle, tube tents, mylar sleeping bags, fire starter, fuel tablets, light sticks, can opener, candles, large fist aid kit, and so much more.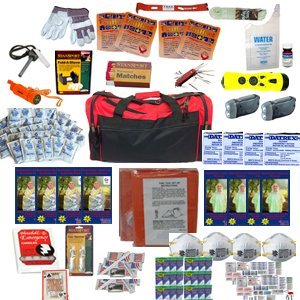 Don't be stuck without the emergency supplies you'll need!

4 Person Survival Kit Deluxe Perfect Earthquake, Evacuation, Emergency Disaster Preparedness, 72 Hour Kits for Home, Work or Auto
Site price: $199.95 (regularly $360)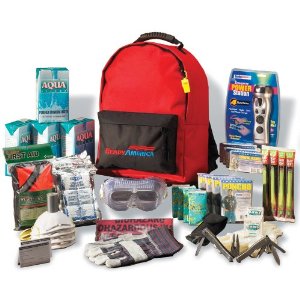 Ready America Grab 'N Go Deluxe 4 Person Backpack
Site Price: $119.88

This bright red backpack makes it easy to see in the dark after an emergency, and easy to grab and go with. You never know when or where a disaster will strike, whether at home, at work, or in your car, so be prepared!
Make sure you have enough supplies for everyone in your family, and it's always best to go big, which is why this 4-person emergency survival kit is a great way to go. Even if its just one person, the food and water supplies, plus masks, whistle, and tools, can last 12 days for one person, or 3 days for 4 people.
There are several other additions in this kit, so make sure to check it out.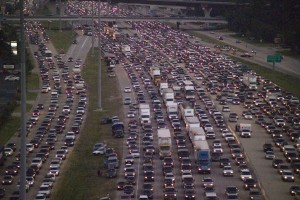 When a disaster strikes, you have to go. There's no time to collect your favorite things or clothes, or to pack up food and water. You need these things ready. These kits below come in easy to transport bags, like hip bags or backpacks. They are small, lightweight and discrete so that you can have the essentials but leave the disaster zone ASAP.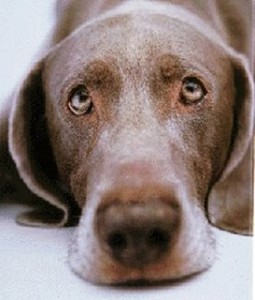 We all love our pets! But are you prepared to take care of them during an emergency? Pets need food, water, and first aid supplies too. There aren't many pet emergency kits, but these are some of the best on the market. Keep your pet healthy and safe while during an emergency with these supplies.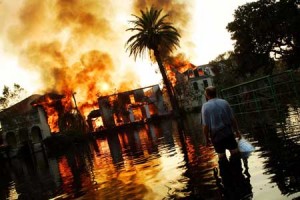 Hurricanes can be devastating if you aren't prepared. Hurricane kits include waterproof or water-resistant supplies so that you have everything you need after a hurricane. With winds going at least 74 mph and rain hailing down, nothing is completely safe from the devastation. We all saw the horrible aftermath of Hurricane Katrina, and the decimation of an entire city, New Orleans. How would you survive?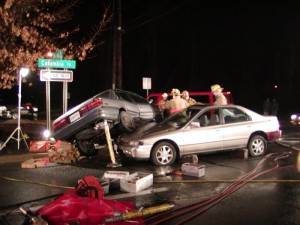 An emergency is most likely to happen while you're away from home and in your car. Also, in the case of an accident or road trip, these types of supplies should always be kept for an emergency. They all contain some form of a first aid kit, road side assistance help, and some offer a little more.
How prepared will you be if an accident or disaster occurs?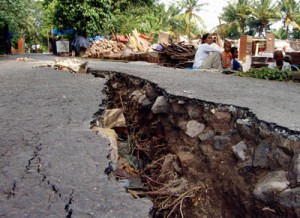 Earthquakes are naturally occurring disasters, when different tectonic plates shift in movement against one another. Where two crusts meet is called a fault-line, and there are several types, such as subduction (which involves an oceanic plate), thrust, slip, oblique, and more. They are graded in a 0.1-10.0 magnitude, and the largest one recorded since 1900 was a 9.5 in Chile in 1977. On March 3, 2011, Japan suffered a 9.0 magnitude earthquake and suffered untold damage.
Owning a kit like the ones below is a great way to attempt being prepared, but no one is ever truly prepared for a disaster. They all include some form of food or water, first aid kit, and more, and vary in sizes for 1-4 person sizes. Each comes in a bag of some sort for easy transport.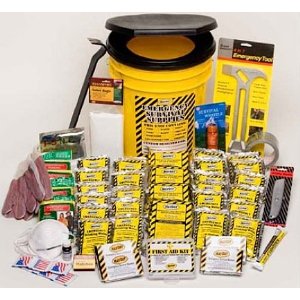 Earthquake Kit – 3 Person Deluxe Home Survival Emergency Preparedness
Site Price: $89.95

Designed for the home or office, this 3-day, 3-person survival kit comes in a 5 gallon container. That container leaves enough room for your own personal additions, and can serve as a water storage container in case of an emergency. It includes lighting, first aid, communication, food, and water in the case of a disaster, and even more, providing the necessities for fire, hurricane, tornado, earthquake, or any man-made event which may occur.