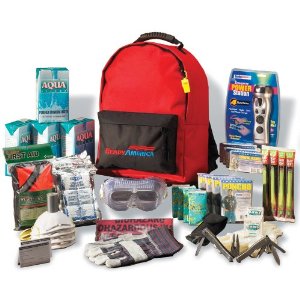 Ready America Grab 'N Go Deluxe 4 Person Backpack
Site Price: $119.88

This bright red backpack makes it easy to see in the dark after an emergency, and easy to grab and go with. You never know when or where a disaster will strike, whether at home, at work, or in your car, so be prepared!
Make sure you have enough supplies for everyone in your family, and it's always best to go big, which is why this 4-person emergency survival kit is a great way to go. Even if its just one person, the food and water supplies, plus masks, whistle, and tools, can last 12 days for one person, or 3 days for 4 people.
There are several other additions in this kit, so make sure to check it out.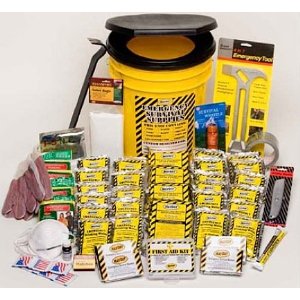 Earthquake Kit – 3 Person Deluxe Home Survival Emergency Preparedness
Site Price: $89.95

Designed for the home or office, this 3-day, 3-person survival kit comes in a 5 gallon container. That container leaves enough room for your own personal additions, and can serve as a water storage container in case of an emergency. It includes lighting, first aid, communication, food, and water in the case of a disaster, and even more, providing the necessities for fire, hurricane, tornado, earthquake, or any man-made event which may occur.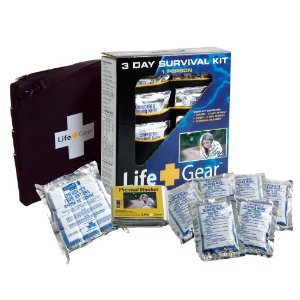 Life+Gear Life Essentials 3-Day Survival Kit, Black and Yellow
Site Price: $22.00

When disaster strikes, where will you be? This small kit includes US Coast Guard approved supplies of water and food, both with 5 year shelf lives and last you 3 days in an emergency. The thermal blanket captures 80 percent body heat, keeping you warm in the cold, The grab and go carrying case has a shoulder strap, making it easy to travel with in an emergency.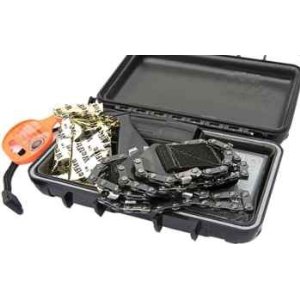 Deluxe Survival Kit Ultimate Survival
Site Price: $58.43

This is a kit that adventure types should keep with them. It includes the best survival and camping gear recommended, from starting fires, to cutting limbs for shelter, and to signal for help. Can fit in a backpack, glove-box, ATV or boat.
Life+Gear Wings of Life Backpack with Detachable Wings and LifeEssentials
Site Price: $99.99

This kit includes a neon yellow lightweight backpack with Wings of Life–detachable strips which includes more survival supplies. There are 3 days of supplies included in the kit, including a poncho, blanket, hygiene kit, mirror, first aid kit, writing pad and pen, whistle, compass, magnifying glass, leather/cloth gloves, respirator mask, flashing light, multifunction tool, waterproof document bag. Food and water supplies have a 5 year shelf life.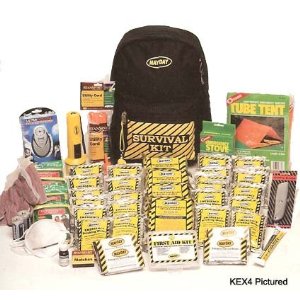 Mayday 1 Person Deluxe Emergency Backpack Kit

This grab-n-go kit is perfect for a single person, whether they store it at home, work, or in their car. It has the backpack, 2400 calorie food bar, solar blanket, pouches of water, dust mask, poncho, flashlight, alkaline "D" batteries, 2 person tent, 50′ nylon cord, light stick, First Aid kit, water purification tablets, waterproof matches, utility knife, whistle, AM/FM radio, camper's stove, and a pair of leather palm gloves.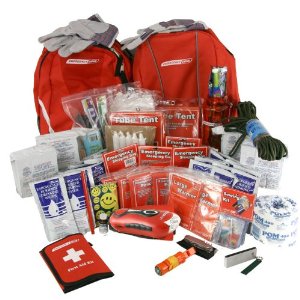 Survivor Emergency Kit-4 Person, Emergency Zone Brand, Disaster Survival Kit, 72 Hour Kit
Site Price: $182.99
This kit is a necessity for a 4-person family or home. It can also be kept in cars, because you  never know when you are going to be during an emergency. With 1 organizational backpack and 1 large backpack, this kit also provides: a 48 page How to Prepare for Any Disaster booklet; water with a shelf life of 5 years, plus 50 water purification tables; AM/FM radio/ flashlight with a rechargeable hand crank; 4 8-hour light sticks; firestarter; 4 reflective sleeping bags; 4 ponchos; 2 tube tents (2 people each); 20 hour liquid candle; 4 3600-calorie food bars with 5 year shelf life; 24 water pouches; 1 multi-tool knife, 1 5-in-1 whistle, 1 50 ft. rope; 2 pairs working gloves; 4 dust masks; 1 deluxe first aid kit; 1 hygiene kit (4 toothbrushes, toothpaste, comb, washcloth, 10 tissues, 24 wet naps, shampoo); 1 roll toilet paper; 1 note pad, pencil, and sewing kit.
It also has checkless and preparedness tips.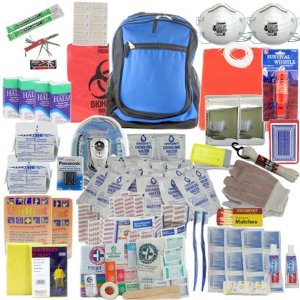 Deluxe 2-Person by SurvivalKitsOnline Perfect Survival Kit for Emergency Disaster Preparedness for Earthquake, Hurricane, Fire, Evacuations, Auto, Home and Family
Site Price: $99.95
This kit comes with a deluxe hikers backpack with enough space for personal items, such as prescriptions. Includes: 6 pocket hiker's backpack; 24 pouches of Datrex water (5 year life shelf); 24 200 calorie Datrex food bars; 20 Water purification tables  (1 liter of water); flashlight and AM/FM radio with headphones; 5-in-1 survival whistle with compass, signal, mirror, flint starter, waterproof container, lanyard, and shrill whistle; 2 emergency green glow light sticks that last 12 hours; 1 box of 50 waterproof matches; survival sleeping bag (better than space blankets); 2-16 hour body warmers; 1-2 person tube tent with rope; 2 ponchos; 16 function knife; working gloves; 2 dust masks; 50 feet nylon rope; 2 hygiene kits including soap, toothbrush, toothpaste, and 9 wet wipes; pocket tissues; First-Aid kit.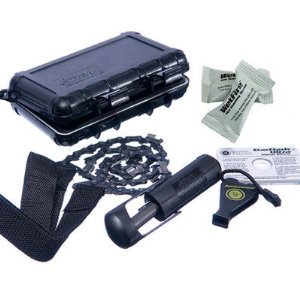 Deluxe Survival Kit – Ultimate Survival

While this kit doesn't include things like food and water, it has supplies to help survive. Such as a fire starter, a saw, and a signal. It fits perfectly in a backpack, glovebox, ATV, boat, or trunk of a car. It weighs about 1.5 pounds, so it isn't too stocky, but can help simplify your life either every day, or on the worst of days.