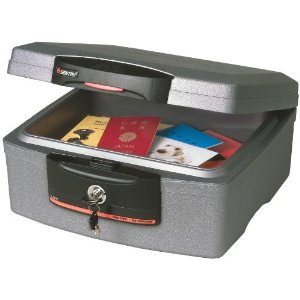 SentrySafe Fire-Safe Waterproof Chest, .36 Cubic Feet, Silver Gray
Site Price: $52.22 (usually $66.66)

What happens if your house catches fire? It doesn't have to burn to the ground to lose all your important documents, like passports, family photos, birth certificates, DVDs, CDs, USBs, and wills. What about if there is a flood? Do you want to risk those irreplaceable and important items simply due to a little water?
No. Well, I hope not! That's why it's important to have at least one fire-proof object that can hold these documents. This locked box is fire-safe for 30 minutes up to 1550 Fahrenheit. Even if it is unlocked, a latch mechanism keeps the inside contents safe from the outside world.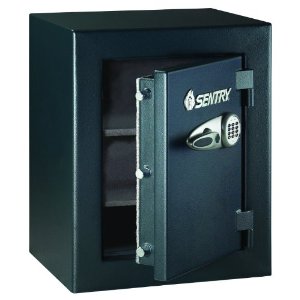 Sentry Safe 38-Cubic Feet Security Electronic Keypad Fire Safe Weighing 218-Pounds, Black
Site Price: $449.00 (usually $838)

If you want a safe that is fire resistant, sturdy, and can fit more than just some paperwork, this is it. It has an electronic keypad for code-only access, with three-dead bolts and three steel live-locking bolts. The door is solid steel and pry-resistant, and inside are two adjustable shelves.
It measures 38-cubic feet and 218 pounds, difficult to move (so less risk from robbers). It's black, letting it blend more casually into any room, and can house documents, pictures, family heirlooms, and anything else too important to risk during a fire or burglary.