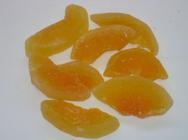 Dried Cantaloupe might not be something you would think of right away in dried fruits, but it makes great snack food as well as a great addition in trail mix that will help spruce up your trail mix with a little extra something.
Remove the cantaloupe's rind and seeds – which can be saved for planting if your own garden if you are interested!
Cut the cantaloupe into bite-sized pieces about 1/4″ thick, or into thin wedges.
Dry the cantaloupe in your dehydrator for 10-16 hours at 135 degrees F.
Store dried cantaloupe in a clean, dry, and airtight container out of light.
It's not recommended that you rehydrate cantaloupe. Just use it as a snack or as an addition to a trail mix.