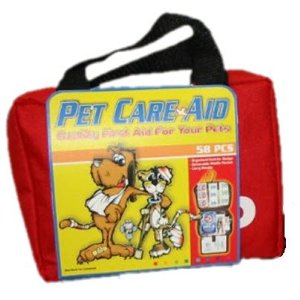 Premium Pet First Aid Kit for Dogs and Cats – 58 Piece Soft Case – For Disaster preparedness and Emergencies
This emergency first aid kit is almost a necessity for humans with pets during a disaster. It includes tweezers, scissors, gauze, cold pack, hydrogen peroxide spray, iodine, cotton tips, gloves, prep pads, a First Aid guide, and more.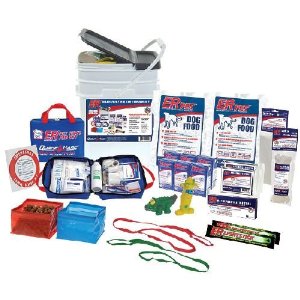 Deluxe/Multiple Emergency Dog Survival Kit

Don't forget about your pets during a disaster. A survival kit contains everything they need. This one can feed up to 2 dogs and includes: emergency dog food, water, shelter, first aid, toys, leash, bowls, light, tie-rope, sanitation and more. The food and water have 5 year shelf life.