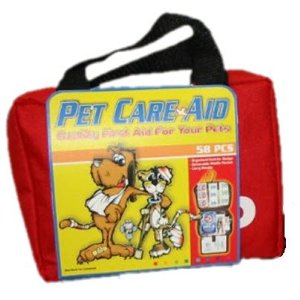 Premium Pet First Aid Kit for Dogs and Cats – 58 Piece Soft Case – For Disaster preparedness and Emergencies
This emergency first aid kit is almost a necessity for humans with pets during a disaster. It includes tweezers, scissors, gauze, cold pack, hydrogen peroxide spray, iodine, cotton tips, gloves, prep pads, a First Aid guide, and more.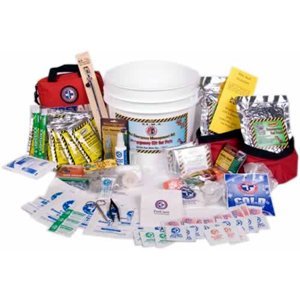 The 35-Piece Catastrophe Kit for Cats Emergency Disaster Preparedness
Site Price: $54.95

Don't forget your cat during an emergency. This pet kit contains everything you need to keep your cat alive and happy. Even though it does half the same 5 year shelf-life as human kits, this one has cat food, a blanket, light sticks, bowls, cat toy, 3 gallon bucket with lid, first aid kit, leash, collar, water, 50′ rope, poop bags, can opener, bloodstopper, and more.