This handy emergency preparedness kit has a feature that none of the other available disaster kits offers: a toilet! Do we really consider where we'd leave our refuge during a disaster, when the power is out and we're trapped somewhere without power? Of course we could go behind a bush, but if you have kids, this device is handy. The toilet is actually part of the carrying device, which is a 5-gallon bucket with a toilet seat lid on top.
Inside of the kit (which you'd remove if needed, I hope) you'll find enough food and water supplies to keep four people alive for three days, or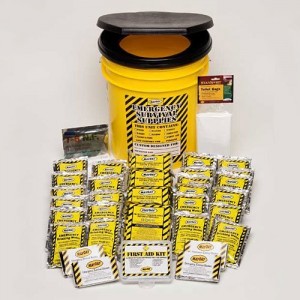 one person alive for twelve days. It includes food, solar blankets, water, dust masks, toilet disinfectant, light stick, wet naps, a flashlight/radio and cell phone charger, utility knife, and more.
This kit is perfect for earthquakes, hurricanes, and almost every other kind of emergency you can think of. Be prepared!
When you need to go, be prepared! One of the major elements you need to keep in mind is food: how are you going to get it? Or cook it? That's why little lightweight s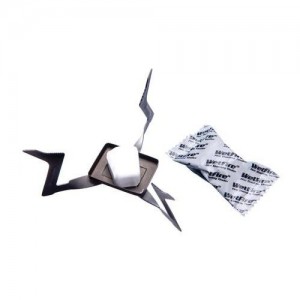 toves like this one, the Wetfire Stove, is great as an addition to any emergency disaster kit or camping pack.
This stove only weighs half an ounce; it folds up to store nicely. The fuel are cubes that won't spill in your bag or cause accidental fires. It can boil a cup of water in 5-6 minutes.
Not only can you use it for cooking food while you're trying to survive, but you can sterilize water by boiling it. It's handy to have something like this when a disaster strikes.

Store Price: $14.41 (normally 17.95)
With storm season fast approaching, it's a wise idea to have on hand some type of flare-gun. It makes you easy to find, no matter where you are.
This Orion Safety Alerter Coastal Signalling Kit can launch a flare 500′ into the air. It is USCG approved to work in both day and night. The flare itself lasts up to 7 seconds, and everything about it surpasses US Coast Guard requirements.
Included in this package: 1 12-guage Safety Launcher, which can shoot the flare signals up to 500′; and 4 12-guage Red Aerial Flares, lasting 7 seconds and burning at 16,000 candela.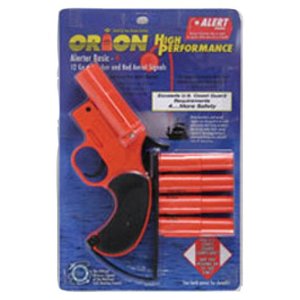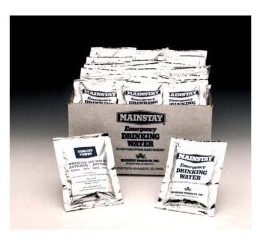 Mainstay Emergency Drinking Water (60 Pack)
Water, as you know, is necessary to survival. These water rations come in 4.24 ounce packages, and this package contains 60. They have a 5 year shelf life and are US Coast Guard approved. They do not require any type of special storage and will not allow oxygen transfer, so there isn't a chance of bacterial contamination.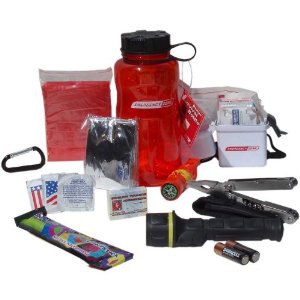 Deluxe Survival Bottle, Emergency Zone Brand, Disaster Survival Kit, Emergency Preparedness

This inexpensive kit contains the necessities for a disaster, all fitting into the 1 ML Lexan bottle provided. It's small enough for a house, car, boat, camper, locker, or office, and has a waist strap for portability. Includes the bottle, a flashlight with 2 AA batteries, box of 50 waterproof matches, a light stick that lasts 8 hours, a 5-in-1 whistle, emergency blanket, emergency poncho, a First Aid kit, multi-tool pliers, a carabiner, a waterproof document container, and a gallon zip lock bag.