With storm season fast approaching, it's a wise idea to have on hand some type of flare-gun. It makes you easy to find, no matter where you are.
This Orion Safety Alerter Coastal Signalling Kit can launch a flare 500′ into the air. It is USCG approved to work in both day and night. The flare itself lasts up to 7 seconds, and everything about it surpasses US Coast Guard requirements.
Included in this package: 1 12-guage Safety Launcher, which can shoot the flare signals up to 500′; and 4 12-guage Red Aerial Flares, lasting 7 seconds and burning at 16,000 candela.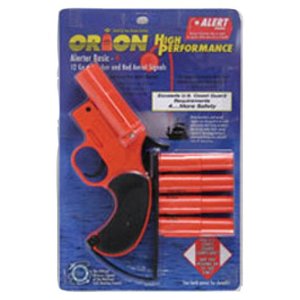 If you want a guide you can keep on hand in the case of an emergency, this book–Handbook to Practical Preparedness for the Family–is it for you. It fits your family needs perfectly, and covers all of your needs: Protection, food, water, shelter, hygiene, heating/cooling, air, medical and first aid, electrical power, light, and more!
It tells you all the supplies you will need, tell you how to prepare for the worst, and how to use what is on hand if you weren't prepared already. It will get you ready for the most deadly types of natural disasters: tornadoes, hurricanes, earthquakes, tsunamis, and floods. It has easy-to-copy worksheets so that you can keep one in each room or RV or wherever else you might need it. Helps you with elderly, pregnant women, pet owners, and people with disabilities.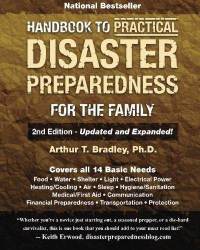 Handbook to Practical Disaster Preparedness for the Family, 2nd Edition
Site Price: $17.96 (normally $24.95)