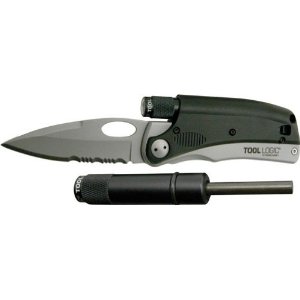 Tool Logic Tactical Folding 1/2 Serrated Knife with LED Flashlight, Magnesium Fire Starter, and Signal Whistle, Silver
Site Price: $32.09

This multi-function, tactical folding knife is perfect on the go in an emergency or just camping. It has a 3 inch, 50/50 serrated stainless steel blade, with bead blast finish. It also sports a bright LED flashlight, diamond sharpener, signal whistle, and pocket clip. It also has a magnesium alloy fire starter, so you can survive out in the wilderness or even in your own backyard in the middle of a disaster.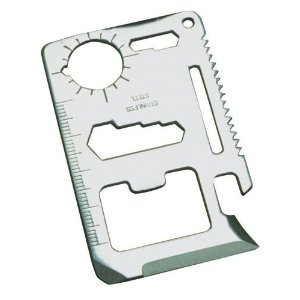 Kikkerland CD401 Classic Survival Tool

This flat survival tool is in the shape of a credit card, small enough to fit into some wallets or to hook in a key chain. It includes a carrying pouch and has a total of 11 functions: can opener, knife edge, screwdriver, 4 position wrench, butterfly screw wench, saw blade, 2 position wrench, key chain hole, bottle opener, direction auxiliary indication.