These things are so small and easy to transport, it's amazing how much of a life-saver they can be during a disaster or emergency. They're little bags that, when activated, can produce up to 135 degrees Fahrenheit. The little, slim bags are the perfect size to slip into a pair of gloves or shoes, keeping your toes and hands from freezing.
On average, they last about 4-7 hours, depending on how long they've been in storage. They should be in every survival kit, whether for earthquakes, tsunamis, or fires, because at night, every where can be cold. Prevent hypothermia with these hand devices, or just use them when you're skiing or snowboarding for extra comfort (that's what I've done before).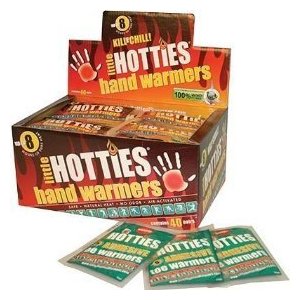 This supply of hand warmers includes 40 pairs, plus 3 toe warmers. Enjoy maximum heat in the coldest of weather with these handy devices.
Emergencies happen all the time, so it's important to have the right supplies on hand. Whether it just be the shock from a car accident to the shivering cold from being stranded over night, an emergency blanket can be the difference between life and death, exhaustion and comfort. Moreover, this Emergency Blanket can be used for other things: tarps, tourniquets, makeshift tent, and more.
This specific emergency blanket comes in four different colors: red, orange, blue, and olive. It's probably smart to get a bright one and a dark one: a bright one may be the visual stimulation needed for someone to find you, while a dark one would work well if trying t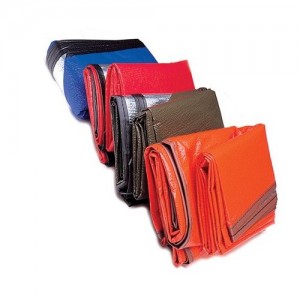 o remain hidden (who knows why).
It weighs 12 oz, making it heavier than the standard mylar blanket, but way lighter than a military blanket. It's called a space-blanket simply because the thinness, but it's re-usable (compared to mylar, awesome!), has multiple purposes, and great for a car emergency kit or general survival supplies you keep in your home.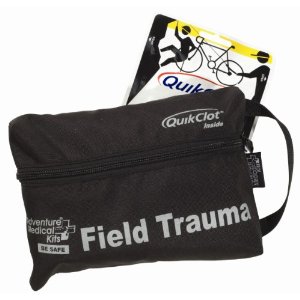 Adventure Medical Kits Tactical Field/Trauma with QuikClot
This is a great, small and portable first aid kit for an emergency. The number one perk, though, is the QuikClot. QuikClot works to stop bleeding immediately. This can save a life during a disaster and medical help can't get to you in time. It can be applied to yourself or a friend and should be in every first aid kit.
Life+Gear Wings of Life Backpack with Detachable Wings and LifeEssentials
Site Price: $99.99

This kit includes a neon yellow lightweight backpack with Wings of Life–detachable strips which includes more survival supplies. There are 3 days of supplies included in the kit, including a poncho, blanket, hygiene kit, mirror, first aid kit, writing pad and pen, whistle, compass, magnifying glass, leather/cloth gloves, respirator mask, flashing light, multifunction tool, waterproof document bag. Food and water supplies have a 5 year shelf life.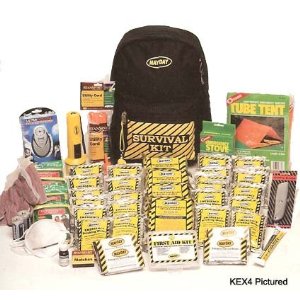 Mayday 1 Person Deluxe Emergency Backpack Kit

This grab-n-go kit is perfect for a single person, whether they store it at home, work, or in their car. It has the backpack, 2400 calorie food bar, solar blanket, pouches of water, dust mask, poncho, flashlight, alkaline "D" batteries, 2 person tent, 50′ nylon cord, light stick, First Aid kit, water purification tablets, waterproof matches, utility knife, whistle, AM/FM radio, camper's stove, and a pair of leather palm gloves.