This kit is perfect for every kind of disaster preparedness. It can be for four people for 72 hours, or one person for 288. It's in a handy grab-and-go bag that is durable, and everything inside covers your basic needs.
There are 48 200-calorie food bars with a 5 year shelf life, 40 water purification tablets, flashlights, survival whistle, tube tents, mylar sleeping bags, fire starter, fuel tablets, light sticks, can opener, candles, large fist aid kit, and so much more.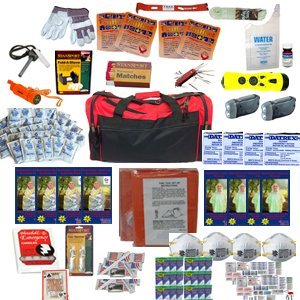 Don't be stuck without the emergency supplies you'll need!

4 Person Survival Kit Deluxe Perfect Earthquake, Evacuation, Emergency Disaster Preparedness, 72 Hour Kits for Home, Work or Auto
Site price: $199.95 (regularly $360)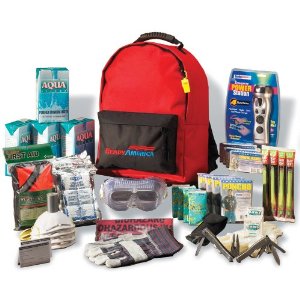 Ready America Grab 'N Go Deluxe 4 Person Backpack
Site Price: $119.88

This bright red backpack makes it easy to see in the dark after an emergency, and easy to grab and go with. You never know when or where a disaster will strike, whether at home, at work, or in your car, so be prepared!
Make sure you have enough supplies for everyone in your family, and it's always best to go big, which is why this 4-person emergency survival kit is a great way to go. Even if its just one person, the food and water supplies, plus masks, whistle, and tools, can last 12 days for one person, or 3 days for 4 people.
There are several other additions in this kit, so make sure to check it out.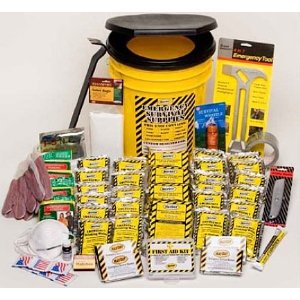 Earthquake Kit – 4 Person Deluxe Home Survival Emergency Preparedness
Site Price: $91.25



This deluxe kit can keep 4 people through 3 days in an emergency situation, especially during earthquakes. It has all the emergency food, water, shelter, sanitation, fird aid, lighting, and communication supplies necessary for surviving after a major disaster. 4 2400-Calorie food bars; 4 solar blankets; 24 pouches of water; 4 dust maks; 4 ponchos; 1 12-pack of liners; 1 12-hour light stick; 1 54-piece first aid kit; 50 water purification tablets; 50 waterproof matches; 1 utility knife; 1 5-in-1 whistle; no battery flashlight;radio w/ cell phone charger; 6 wetnaps' 1 pair leather palm gloves; 1 gas/water shut off tool; 1 t-5 chemical disenfectant; 1 15″ pry bar; 1 roll Duct tape. All food/water has 5 year shelf life, and are safe for vegetarians and anyone allergic to nut oils.