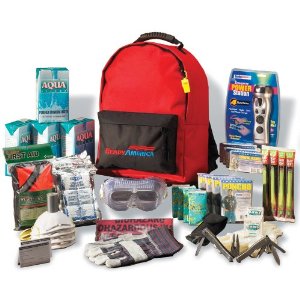 Ready America Grab 'N Go Deluxe 4 Person Backpack
Site Price: $119.88

This bright red backpack makes it easy to see in the dark after an emergency, and easy to grab and go with. You never know when or where a disaster will strike, whether at home, at work, or in your car, so be prepared!
Make sure you have enough supplies for everyone in your family, and it's always best to go big, which is why this 4-person emergency survival kit is a great way to go. Even if its just one person, the food and water supplies, plus masks, whistle, and tools, can last 12 days for one person, or 3 days for 4 people.
There are several other additions in this kit, so make sure to check it out.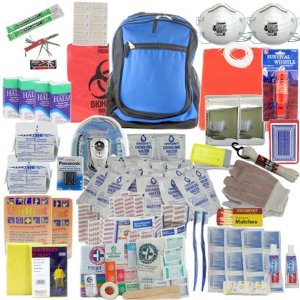 Deluxe 2-Person by SurvivalKitsOnline Perfect Survival Kit for Emergency Disaster Preparedness for Earthquake, Hurricane, Fire, Evacuations, Auto, Home and Family
Site Price: $99.95
This kit comes with a deluxe hikers backpack with enough space for personal items, such as prescriptions. Includes: 6 pocket hiker's backpack; 24 pouches of Datrex water (5 year life shelf); 24 200 calorie Datrex food bars; 20 Water purification tables  (1 liter of water); flashlight and AM/FM radio with headphones; 5-in-1 survival whistle with compass, signal, mirror, flint starter, waterproof container, lanyard, and shrill whistle; 2 emergency green glow light sticks that last 12 hours; 1 box of 50 waterproof matches; survival sleeping bag (better than space blankets); 2-16 hour body warmers; 1-2 person tube tent with rope; 2 ponchos; 16 function knife; working gloves; 2 dust masks; 50 feet nylon rope; 2 hygiene kits including soap, toothbrush, toothpaste, and 9 wet wipes; pocket tissues; First-Aid kit.