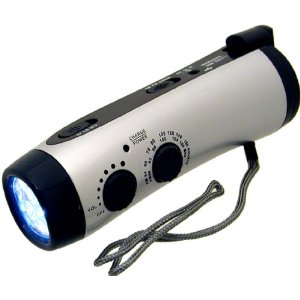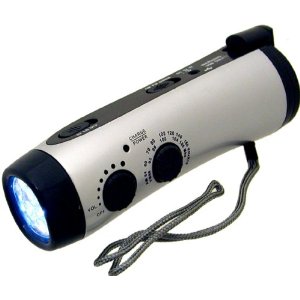 Kaito Emergency Hand Crank Dynamo 5-LED Flashlight with AM/FM Radio
Site Price: $14.99

When a disaster strikes, you never know if you'll have enough batteries or a power supply. This flashlight uses a hand crank to boost its power. Simply crank the flashlight for 1 minute and have light for 30. The radio has a siren, so you can hear the news out in the world. There is also a USB cable included so that cell phones, with a USB connection, can be charged.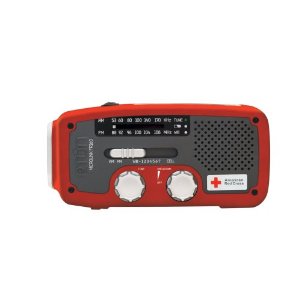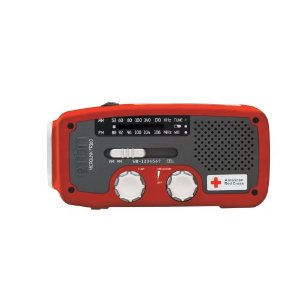 Eton American Red Cross Microlink Self-Powered AM/FM/NOAA Weather Radio with Flashlight, Solar Power and Cell Phone Charger
This little AM/FM radio can run off of solar power or a hand crank, making it perfect for after a disaster. There is also a USB inlet on the side, so that you can charge your phone or other electronic device off of it. There is also a flashlight, made up of 3 built-in LEDs on the side.
This handy emergency preparedness kit has a feature that none of the other available disaster kits offers: a toilet! Do we really consider where we'd leave our refuge during a disaster, when the power is out and we're trapped somewhere without power? Of course we could go behind a bush, but if you have kids, this device is handy. The toilet is actually part of the carrying device, which is a 5-gallon bucket with a toilet seat lid on top.
Inside of the kit (which you'd remove if needed, I hope) you'll find enough food and water supplies to keep four people alive for three days, or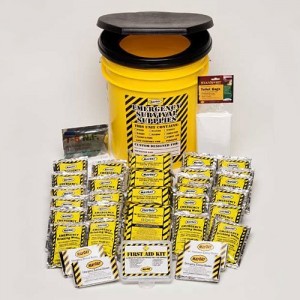 one person alive for twelve days. It includes food, solar blankets, water, dust masks, toilet disinfectant, light stick, wet naps, a flashlight/radio and cell phone charger, utility knife, and more.
This kit is perfect for earthquakes, hurricanes, and almost every other kind of emergency you can think of. Be prepared!
Plate tectonics affect the entire world and, just because you don't think you live on a fault line, don't expect to be safe from the ground-shaking motion of an earthquake.
Earthquakes shake everything if they're strong enough. They can bring down buildings, crack roads, start fires and floods, and so much more. As of yet, there is not a warning for earthquakes before they hit you. If you think ones happening, better be safe than sorry.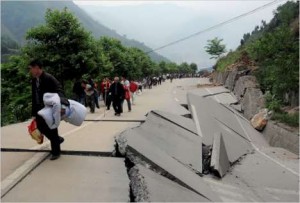 So what should you do if the ground starts rocking?
First off, unless you live in an old adobe house, don't go for the doorway (unless there isn't a door there, anyway). Modern homes are built differently. The best method is the one we grew up with: duck and cover. If you have a sturdy table, desk, or something similar, get underneath it, curl up, and put your hands over your neck and as much of your skull as possible. This prevent falling debris from striking the most delicate part of your body.
After the shaking has stopped, grab family, pets, and emergency supplies, and get out of the house. You don't know if the structure of your shelter was compromised, or if the quake caused a fracture in a gas-line. Hopefully, you already have a fire extinguisher on hand just in case of this situation. Go turn off the gas line if you are able.
Electricity may be down, so you'll definitely need a source of light. Candles may suffice for some, but an aftershock (which is inevitable after any large quake) may cause the candle to tip and start a fire. It is better to have a lamp or flashlight. Many companies make crank or solar-powered radios and flashlight combinations, that also charge cell phones, but if you don't have one of these, make sure you have extra batteries in your emergency kit.
A first aid kit is a necessity, as well. Things are bound to fall during a quake, and people are bound to be under them. Make sure everyone stays hydrated, but use water you know is purified in case the water pipe leaked as well. There are plenty of water purification supplies that will make any water drinkable.
You'll need food rations, as well. If power goes out, then you won't have a stove or refrigerator. You'll need food that doesn't perish.
Another good idea for your earthquake emergency kit is a whistle or flare of some sort, something to get the attention of rescue workers in case you get trapped in the debris.
No one is ever truly prepared for an earthquake, but it's better to have something now than regret not having it later.
Hurricanes aren't a rare thing: they can be deadly and destructive.
On average, five hurricanes strike the US coastline in a three year period. Two of these five are hurricane category 3 hurricanes (aka "intense") and they kill approximately 50 to 100 people.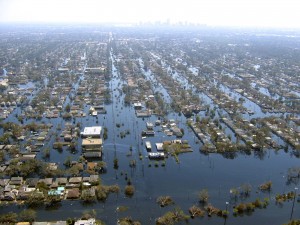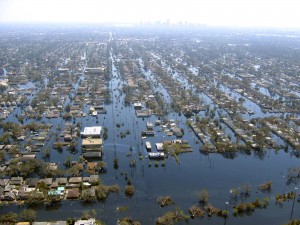 A hurricane is like a tornado in the fact that it's a cycle, but it's a tropical version. It is a low pressure system that incorporates thunderstorms, high-speed windows, and overall chaos.
You need to understand what the warnings mean for a hurricane. These alerts should come through via radio, news, or phones. They can be:
Tropical Storm Watch: This means the right conditions have been met that could possibly create a storm. It will specify the area, and the watch can last 48 hours.
Tropical Storm Warning: Tropical storm conditions of 39mph to 73mph are expected to be met in the next 36 hours. Have your emergency kit packed up and your hurricane safety plan on hand.
Hurricane Watch: The sustained winds of 74+ mph are expected. They try to give you a 48 hour warning beforehand. If possible, head inland with your most important documents and hurricane emergency kits with you. Let friends and family outside of your area know what you are doing.
Hurricane Warning: The 74+ mph winds have been met, and they expect a hurricane. They try to give it in advance. If you are in the specified location, try to head somewhere unaffected. Know where you friends and family are, and let them know where you are and where you are going.
The combination of high winds and flooding make hurricanes devastating. This is why it is important to keep up on hurricane preparation with supplies like first aid kits, food rations, and water purification supplies. Also consider having a crank-powered radio and flashlight. Many charge cell phones, too, so you can stay in touch with your family or friends.
You can never be completely prepared, but you can try. Make sure you won't be left stranded if a hurricane heads your way.
Tornadoes are considered one of the most quick and violent natural disasters than can affect you. They stem from conflicting temperatures hitting in the atmosphere and can arrive without warning at all.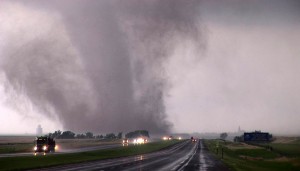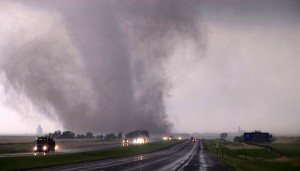 The funnel that hits the ground can have winds reaching 300 miles per hour, and you never know how fast a tornado is going, or where it will go next, or even how long it will last. It can pick up debris and toss them at someone who thinks they are safe without warning. They can rip apart homes, destroy cars, animals, and any kind of life. They can even throw a straw of hay through a tree.
Even if you think your tornado safety plan, survival kit, and preparation is good enough, nothing will get you ready for it. But you can try.
The most important thing to remember: the peak tornado season is different for everybody. The southern states will experience tornado season March through May, while the northern states will experience it late spring through early summer (usually April-July). While they have a pattern of arriving between 3-9PM, don't count on it. They are so dangerous due to their unpredictability.
When a tornado alert comes through via radio, news, or phone, make sure you know what it means. "Tornado watch" I just what it sounds like: a tornado is possible in these weather conditions, so keep one eye on the sky at all times. Have a tornado survival kit nearby, and have your plan in action.
A "tornado warning" means that a tornado has been spotted. You need to get to safety immediately. Grab your survival kit, family, pets, and go for shelter (if you have the time).
There are a few simple ways to be prepared: keep wind chimes outside of your house in varying phases across your property. The sound can alert you before a news alert comes through.
Keep a first aid kit in your home at all times, as well as gear to board up windows, such as lumbar. Stay inside your shelter long after you think the tornado has passed, because there is the "eye of the storm": that moment when you are in the funnel.
Power outages happen often due to tornadoes. A good way to prepare for this is to have a little bit of everything on hand, which can be found in kits or separately. These are things like: crank-powered flashlights and radios, food rations, water purification supplies, general tools like hatchets, and anything you'll need for pets and children.
When adding your personal items to a tornado emergency kit, make sure to include prescriptions and medications that your family needs. Try to make a checklist of items that are necessary, including the urgent items you need to grab on the way out the door.
When it comes to floods, you truly never know what kind of damage will ensue. Will power go out? That means everything in your refrigerator will perish, so you'll need food rations and a way to drink safe water. What about heat? Thermal blankets, waterproof matches, and extra clothing is necessary.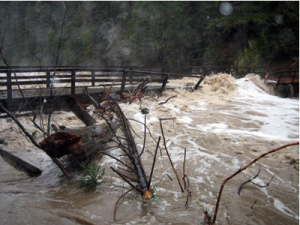 But there's more to it than just that.
When a flood happens, the warning comes (via radio, phone, or news) in multiple terms. It could be a "flood forecast", which just means the rainfall is so heavy, that rivers and streets can overflow. A "flood warning" means that a river, lake, or something similar has overflowed. A "flash flood" means that a flood can be quick. This is a common thing in places like foothills of mountains, where the rainfall builds up in the brushes, but when the dirt gives way, all that water comes down at once. If a "flash flood watch" turns into a "flash flood warning", you need to be ready to move when the time comes.
Make sure you have lights, something that uses a battery. Now, you can purchase lights and radios that use power from a hand crank or solar, which also can charge cell phones and similar items. Make sure you have sandbags, plywood, sheeting, and lumbar near your house so you can protect it if a flood is coming.
Make sure you know what your insurance plan covers for floods, as well. Even though insurance will replace tangible items, keep a water-proof and fire-resistant safe for birth certificates, photos, and any other things that are irreplaceable.
If you are asked to evacuate during a flood, it is important to think of safety: turn off utilities, switches, and valves to the house. Know of a safe place to go, and make sure to inform friends and family where you are headed. Remember: roads flood. Do not drive in a flooded street, because, once a tire can't touch the ground, you will end up just floating with the flow.
Keep an eye out for mud slides, electrical wires, street poles, and any other possible hazard.
For more tips on flood preparation, check out several books and items listed below. There disaster survival kits as well as emergency supplies that will help you in your time of need.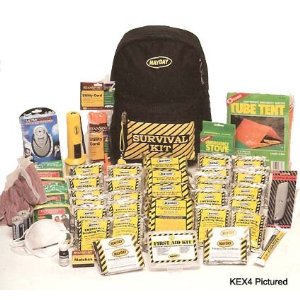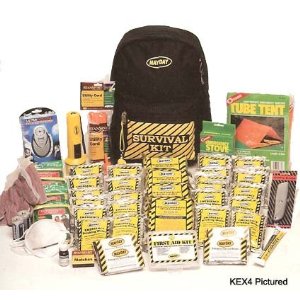 Mayday 1 Person Deluxe Emergency Backpack Kit

This grab-n-go kit is perfect for a single person, whether they store it at home, work, or in their car. It has the backpack, 2400 calorie food bar, solar blanket, pouches of water, dust mask, poncho, flashlight, alkaline "D" batteries, 2 person tent, 50′ nylon cord, light stick, First Aid kit, water purification tablets, waterproof matches, utility knife, whistle, AM/FM radio, camper's stove, and a pair of leather palm gloves.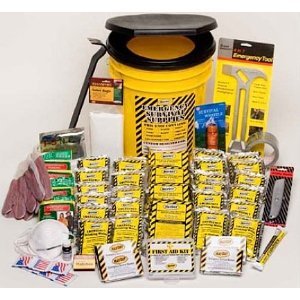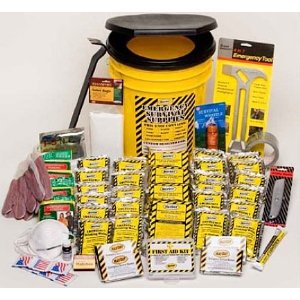 Earthquake Kit – 4 Person Deluxe Home Survival Emergency Preparedness
Site Price: $91.25



This deluxe kit can keep 4 people through 3 days in an emergency situation, especially during earthquakes. It has all the emergency food, water, shelter, sanitation, fird aid, lighting, and communication supplies necessary for surviving after a major disaster. 4 2400-Calorie food bars; 4 solar blankets; 24 pouches of water; 4 dust maks; 4 ponchos; 1 12-pack of liners; 1 12-hour light stick; 1 54-piece first aid kit; 50 water purification tablets; 50 waterproof matches; 1 utility knife; 1 5-in-1 whistle; no battery flashlight;radio w/ cell phone charger; 6 wetnaps' 1 pair leather palm gloves; 1 gas/water shut off tool; 1 t-5 chemical disenfectant; 1 15″ pry bar; 1 roll Duct tape. All food/water has 5 year shelf life, and are safe for vegetarians and anyone allergic to nut oils.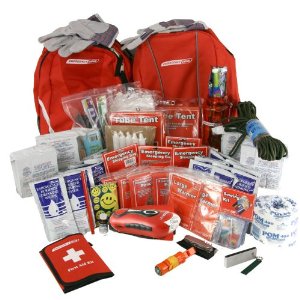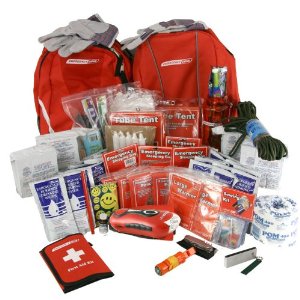 Survivor Emergency Kit-4 Person, Emergency Zone Brand, Disaster Survival Kit, 72 Hour Kit
Site Price: $182.99
This kit is a necessity for a 4-person family or home. It can also be kept in cars, because you  never know when you are going to be during an emergency. With 1 organizational backpack and 1 large backpack, this kit also provides: a 48 page How to Prepare for Any Disaster booklet; water with a shelf life of 5 years, plus 50 water purification tables; AM/FM radio/ flashlight with a rechargeable hand crank; 4 8-hour light sticks; firestarter; 4 reflective sleeping bags; 4 ponchos; 2 tube tents (2 people each); 20 hour liquid candle; 4 3600-calorie food bars with 5 year shelf life; 24 water pouches; 1 multi-tool knife, 1 5-in-1 whistle, 1 50 ft. rope; 2 pairs working gloves; 4 dust masks; 1 deluxe first aid kit; 1 hygiene kit (4 toothbrushes, toothpaste, comb, washcloth, 10 tissues, 24 wet naps, shampoo); 1 roll toilet paper; 1 note pad, pencil, and sewing kit.
It also has checkless and preparedness tips.