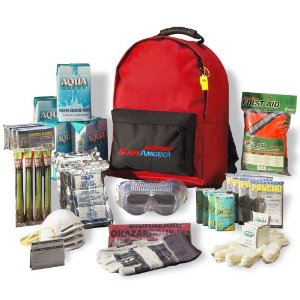 Ready America Grab N Go Essentials 4 Person Backpack
Site Price: $89.99

Are you ready for a disaster? Honestly, no one is, no matter how prepared you are. That's why companies put together grab and go kits. This one comes in a backpack, and holds the recommended supplies for 4 people for 3 days as by the American Red Cross. There is water, food, ponchos, blankets, light sticks, gloves, masks, and more. It's great for hurricanes, earthquakes, floods, and any general emergency imaginable.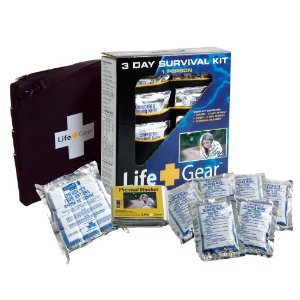 Life+Gear Life Essentials 3-Day Survival Kit, Black and Yellow
Site Price: $22.00

When disaster strikes, where will you be? This small kit includes US Coast Guard approved supplies of water and food, both with 5 year shelf lives and last you 3 days in an emergency. The thermal blanket captures 80 percent body heat, keeping you warm in the cold, The grab and go carrying case has a shoulder strap, making it easy to travel with in an emergency.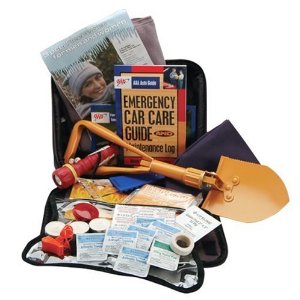 AAA 65-Piece Winter Severe Weather Travel Kit

This emergency kit is perfect for an automobile accident. This kit includes a carrying bag, AAA emergency care guide, AAA membership brochure, plastic flashlight with batteries, three-piece fleece set, folding shovel, ice scrape, LED safety strobe light, survival blanket, emergency candles, hand warmers, 46-piece First Aid kit, and emergency whistle.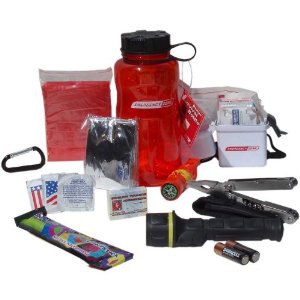 Deluxe Survival Bottle, Emergency Zone Brand, Disaster Survival Kit, Emergency Preparedness

This inexpensive kit contains the necessities for a disaster, all fitting into the 1 ML Lexan bottle provided. It's small enough for a house, car, boat, camper, locker, or office, and has a waist strap for portability. Includes the bottle, a flashlight with 2 AA batteries, box of 50 waterproof matches, a light stick that lasts 8 hours, a 5-in-1 whistle, emergency blanket, emergency poncho, a First Aid kit, multi-tool pliers, a carabiner, a waterproof document container, and a gallon zip lock bag.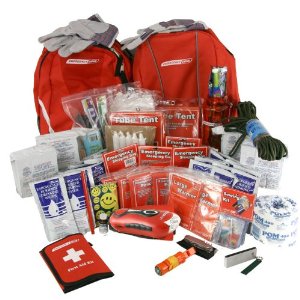 Survivor Emergency Kit-4 Person, Emergency Zone Brand, Disaster Survival Kit, 72 Hour Kit
Site Price: $182.99
This kit is a necessity for a 4-person family or home. It can also be kept in cars, because you  never know when you are going to be during an emergency. With 1 organizational backpack and 1 large backpack, this kit also provides: a 48 page How to Prepare for Any Disaster booklet; water with a shelf life of 5 years, plus 50 water purification tables; AM/FM radio/ flashlight with a rechargeable hand crank; 4 8-hour light sticks; firestarter; 4 reflective sleeping bags; 4 ponchos; 2 tube tents (2 people each); 20 hour liquid candle; 4 3600-calorie food bars with 5 year shelf life; 24 water pouches; 1 multi-tool knife, 1 5-in-1 whistle, 1 50 ft. rope; 2 pairs working gloves; 4 dust masks; 1 deluxe first aid kit; 1 hygiene kit (4 toothbrushes, toothpaste, comb, washcloth, 10 tissues, 24 wet naps, shampoo); 1 roll toilet paper; 1 note pad, pencil, and sewing kit.
It also has checkless and preparedness tips.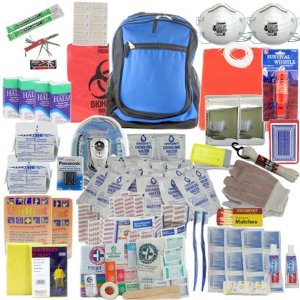 Deluxe 2-Person by SurvivalKitsOnline Perfect Survival Kit for Emergency Disaster Preparedness for Earthquake, Hurricane, Fire, Evacuations, Auto, Home and Family
Site Price: $99.95
This kit comes with a deluxe hikers backpack with enough space for personal items, such as prescriptions. Includes: 6 pocket hiker's backpack; 24 pouches of Datrex water (5 year life shelf); 24 200 calorie Datrex food bars; 20 Water purification tables  (1 liter of water); flashlight and AM/FM radio with headphones; 5-in-1 survival whistle with compass, signal, mirror, flint starter, waterproof container, lanyard, and shrill whistle; 2 emergency green glow light sticks that last 12 hours; 1 box of 50 waterproof matches; survival sleeping bag (better than space blankets); 2-16 hour body warmers; 1-2 person tube tent with rope; 2 ponchos; 16 function knife; working gloves; 2 dust masks; 50 feet nylon rope; 2 hygiene kits including soap, toothbrush, toothpaste, and 9 wet wipes; pocket tissues; First-Aid kit.