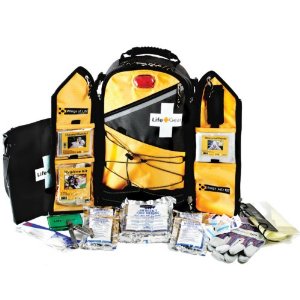 Life+Gear Wings of Life Backpack with Detachable Wings and LifeEssentials
Site Price: $99.99

This kit includes a neon yellow lightweight backpack with Wings of Life–detachable strips which includes more survival supplies. There are 3 days of supplies included in the kit, including a poncho, blanket, hygiene kit, mirror, first aid kit, writing pad and pen, whistle, compass, magnifying glass, leather/cloth gloves, respirator mask, flashing light, multifunction tool, waterproof document bag. Food and water supplies have a 5 year shelf life.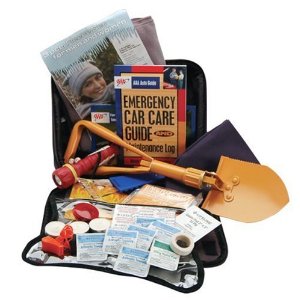 AAA 65-Piece Winter Severe Weather Travel Kit

This emergency kit is perfect for an automobile accident. This kit includes a carrying bag, AAA emergency care guide, AAA membership brochure, plastic flashlight with batteries, three-piece fleece set, folding shovel, ice scrape, LED safety strobe light, survival blanket, emergency candles, hand warmers, 46-piece First Aid kit, and emergency whistle.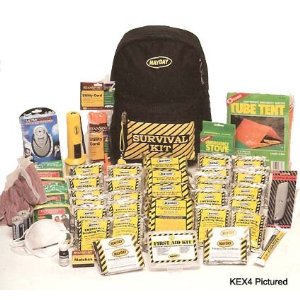 Mayday 1 Person Deluxe Emergency Backpack Kit

This grab-n-go kit is perfect for a single person, whether they store it at home, work, or in their car. It has the backpack, 2400 calorie food bar, solar blanket, pouches of water, dust mask, poncho, flashlight, alkaline "D" batteries, 2 person tent, 50′ nylon cord, light stick, First Aid kit, water purification tablets, waterproof matches, utility knife, whistle, AM/FM radio, camper's stove, and a pair of leather palm gloves.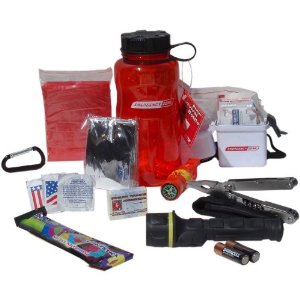 Deluxe Survival Bottle, Emergency Zone Brand, Disaster Survival Kit, Emergency Preparedness

This inexpensive kit contains the necessities for a disaster, all fitting into the 1 ML Lexan bottle provided. It's small enough for a house, car, boat, camper, locker, or office, and has a waist strap for portability. Includes the bottle, a flashlight with 2 AA batteries, box of 50 waterproof matches, a light stick that lasts 8 hours, a 5-in-1 whistle, emergency blanket, emergency poncho, a First Aid kit, multi-tool pliers, a carabiner, a waterproof document container, and a gallon zip lock bag.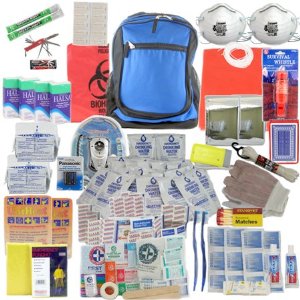 Deluxe 2-Person by SurvivalKitsOnline Perfect Survival Kit for Emergency Disaster Preparedness for Earthquake, Hurricane, Fire, Evacuations, Auto, Home and Family
Site Price: $99.95
This kit comes with a deluxe hikers backpack with enough space for personal items, such as prescriptions. Includes: 6 pocket hiker's backpack; 24 pouches of Datrex water (5 year life shelf); 24 200 calorie Datrex food bars; 20 Water purification tables  (1 liter of water); flashlight and AM/FM radio with headphones; 5-in-1 survival whistle with compass, signal, mirror, flint starter, waterproof container, lanyard, and shrill whistle; 2 emergency green glow light sticks that last 12 hours; 1 box of 50 waterproof matches; survival sleeping bag (better than space blankets); 2-16 hour body warmers; 1-2 person tube tent with rope; 2 ponchos; 16 function knife; working gloves; 2 dust masks; 50 feet nylon rope; 2 hygiene kits including soap, toothbrush, toothpaste, and 9 wet wipes; pocket tissues; First-Aid kit.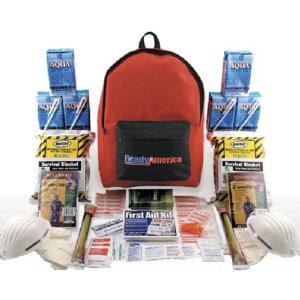 Quakehold! 70280 Grab-N-Go Emergency Kit, 2-Person 3-Day Back Pack

This backpack has the essentials you would need in the case of an emergency. It can provide 2 people with 3 days worth of supplies, plus the bag has extra room where you can add personal items, like prescriptions, knives, etc.. The three basic essentials, which are recommended by the American Red Cross, are in every backpack.
Kit includes: food, water, and emergency blankets; First Aid Kit (33 pieces); safety lightsticks (2); and the handy backpack. Also has dust masks, nitrile gloves, emergency whistle, ponchos, and pocket tissues. Great to have in any household, car, classroom, or office.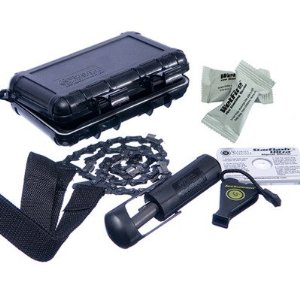 Deluxe Survival Kit – Ultimate Survival

While this kit doesn't include things like food and water, it has supplies to help survive. Such as a fire starter, a saw, and a signal. It fits perfectly in a backpack, glovebox, ATV, boat, or trunk of a car. It weighs about 1.5 pounds, so it isn't too stocky, but can help simplify your life either every day, or on the worst of days.