Looking for a portable generator that includes a wheel kit? The DuroMax Gas Powered Generator offers a wheel kit to boost the portability aspect, yet still has 4,400 watts for your electric needs.
This baby boast a 4 gallon gas tank and runs about eight hours. It uses an electric key to start it and includes a battery, and it also has an automatic low-oil shut off. It's quite handy.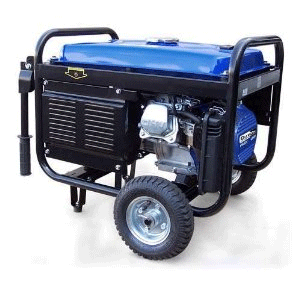 Even though it can reach 4400 watts, it runs continuously at 3500 with the 7.0 horsepower air-cooled OHV engine. The heavy-duty steel frame roll cage has a four-point fully isolated motor mount. It also includes a one-year limited warranty, which is nice.

Need a portable generator that can run up to 10 hours with just 20 pounds of fuel? A propane powered generator lasts longer—and the fuel is less expensive—than a gas-powered generator.
This Sportsman 4,000 Watt Propane generator features an engine with 7 horsepower OHV. The generator itself offers two 120-volt AC outlets and one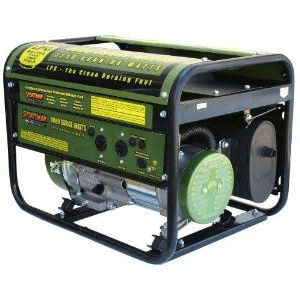 12-volt DC outlet.
This little generator is perfect when you want to go camping, or if there is an emergency and the power goes out. It's perfect.
Sportsman 4000 Watt 7HP OHV Propane Powered Portable Generator
Looking for a powerful portable generator? The DuroStar 4000 watt generator offers long-lasting power with a 7.0 horsepower air-cooled overhead valve engine. It can last up to eight hours and offers a 4-gallon fuel tank, which makes this device a little heavier than other portable generators but it cranks out more voltage and watts.
It has a recoil start, a quiet muffler, and an automatic low-oil shutoff. It includes a tool kit and operation instructions directly from the box.
The generator has two 120-volt, 20-amp, 3-prong outlets to plug things into, as well as a 120-volt, 30-amp outlet for high-power tools.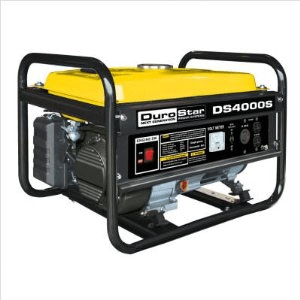 This generator is great in case there is an emergency and the power goes out. We rely so heavily on electricity that you need one, just in case!

Humanity is dependent on electricity and power. So what happens if your area loses power during an emergency or natural disaster?
Many people invest in a portable generator, and this one is lightweight and portable, perfect for camping or for an emergency kit. The All Power America boasts 2,000 watts and uses a 4-stroke engine. This does away with the oil and gas mixture 2-stroke engines require, so it's less of a hassle on you.
It can last for a total of nine hours off of 1.32 gallons of unleaded gasoline, making this generator easy to use and easily transportable. It has 3 horse power and gives off 122.5 volts,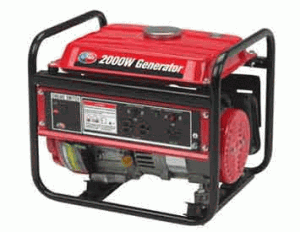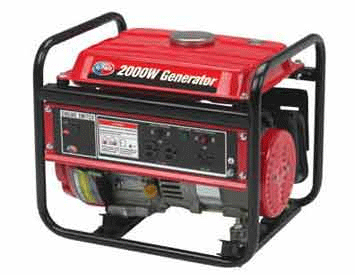 which is handy.

When you need to go, be prepared! One of the major elements you need to keep in mind is food: how are you going to get it? Or cook it? That's why little lightweight s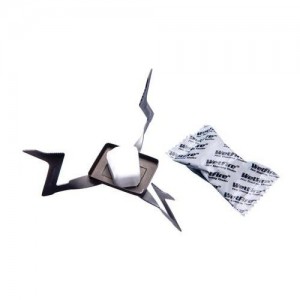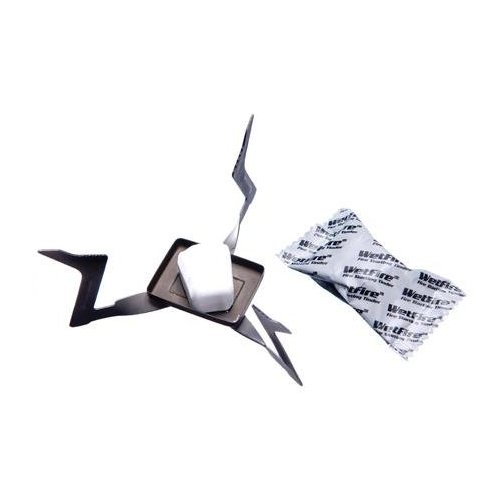 toves like this one, the Wetfire Stove, is great as an addition to any emergency disaster kit or camping pack.
This stove only weighs half an ounce; it folds up to store nicely. The fuel are cubes that won't spill in your bag or cause accidental fires. It can boil a cup of water in 5-6 minutes.
Not only can you use it for cooking food while you're trying to survive, but you can sterilize water by boiling it. It's handy to have something like this when a disaster strikes.

Store Price: $14.41 (normally 17.95)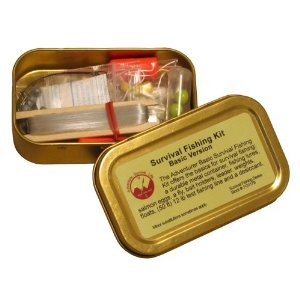 We've all heard the saying: Give a man a fish, he'll eat for the day; teach a man to fish, you feed him for a lifetime.
That's why it's handy to keep thing likes fishing supplies in every emergency kit, including your car. Fishing is a basic necessity when stuck without basic supplies.
The kit comes in a durable waterproof tin and is small, able to fit in any kit or glove compartment. It includes: Tiny Shad Jig, Swirl Tail Grub Jig, 2 1/16 Unpainted Round Jig Heads, Salmon Egg Bait, Moisture absorbing desiccant packet, line, and more.
You can add whatever else you prefer into this little kit that makes fishing for you, personally, easier.

Basic Emergency Survival Fishing Kit
Site Price: $12.95
These things are so small and easy to transport, it's amazing how much of a life-saver they can be during a disaster or emergency. They're little bags that, when activated, can produce up to 135 degrees Fahrenheit. The little, slim bags are the perfect size to slip into a pair of gloves or shoes, keeping your toes and hands from freezing.
On average, they last about 4-7 hours, depending on how long they've been in storage. They should be in every survival kit, whether for earthquakes, tsunamis, or fires, because at night, every where can be cold. Prevent hypothermia with these hand devices, or just use them when you're skiing or snowboarding for extra comfort (that's what I've done before).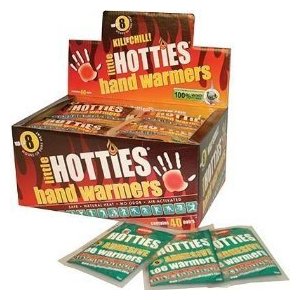 This supply of hand warmers includes 40 pairs, plus 3 toe warmers. Enjoy maximum heat in the coldest of weather with these handy devices.
With storm season fast approaching, it's a wise idea to have on hand some type of flare-gun. It makes you easy to find, no matter where you are.
This Orion Safety Alerter Coastal Signalling Kit can launch a flare 500′ into the air. It is USCG approved to work in both day and night. The flare itself lasts up to 7 seconds, and everything about it surpasses US Coast Guard requirements.
Included in this package: 1 12-guage Safety Launcher, which can shoot the flare signals up to 500′; and 4 12-guage Red Aerial Flares, lasting 7 seconds and burning at 16,000 candela.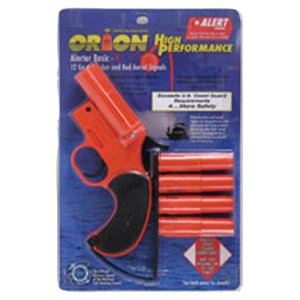 If you want a guide you can keep on hand in the case of an emergency, this book–Handbook to Practical Preparedness for the Family–is it for you. It fits your family needs perfectly, and covers all of your needs: Protection, food, water, shelter, hygiene, heating/cooling, air, medical and first aid, electrical power, light, and more!
It tells you all the supplies you will need, tell you how to prepare for the worst, and how to use what is on hand if you weren't prepared already. It will get you ready for the most deadly types of natural disasters: tornadoes, hurricanes, earthquakes, tsunamis, and floods. It has easy-to-copy worksheets so that you can keep one in each room or RV or wherever else you might need it. Helps you with elderly, pregnant women, pet owners, and people with disabilities.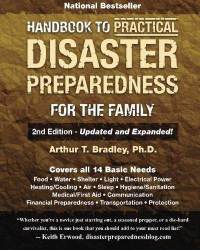 Handbook to Practical Disaster Preparedness for the Family, 2nd Edition
Site Price: $17.96 (normally $24.95)

Emergencies happen all the time, so it's important to have the right supplies on hand. Whether it just be the shock from a car accident to the shivering cold from being stranded over night, an emergency blanket can be the difference between life and death, exhaustion and comfort. Moreover, this Emergency Blanket can be used for other things: tarps, tourniquets, makeshift tent, and more.
This specific emergency blanket comes in four different colors: red, orange, blue, and olive. It's probably smart to get a bright one and a dark one: a bright one may be the visual stimulation needed for someone to find you, while a dark one would work well if trying t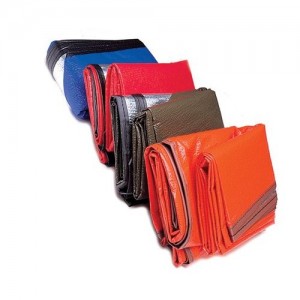 o remain hidden (who knows why).
It weighs 12 oz, making it heavier than the standard mylar blanket, but way lighter than a military blanket. It's called a space-blanket simply because the thinness, but it's re-usable (compared to mylar, awesome!), has multiple purposes, and great for a car emergency kit or general survival supplies you keep in your home.