This handy emergency preparedness kit has a feature that none of the other available disaster kits offers: a toilet! Do we really consider where we'd leave our refuge during a disaster, when the power is out and we're trapped somewhere without power? Of course we could go behind a bush, but if you have kids, this device is handy. The toilet is actually part of the carrying device, which is a 5-gallon bucket with a toilet seat lid on top.
Inside of the kit (which you'd remove if needed, I hope) you'll find enough food and water supplies to keep four people alive for three days, or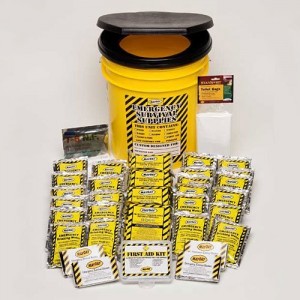 one person alive for twelve days. It includes food, solar blankets, water, dust masks, toilet disinfectant, light stick, wet naps, a flashlight/radio and cell phone charger, utility knife, and more.
This kit is perfect for earthquakes, hurricanes, and almost every other kind of emergency you can think of. Be prepared!
This kit is perfect for every kind of disaster preparedness. It can be for four people for 72 hours, or one person for 288. It's in a handy grab-and-go bag that is durable, and everything inside covers your basic needs.
There are 48 200-calorie food bars with a 5 year shelf life, 40 water purification tablets, flashlights, survival whistle, tube tents, mylar sleeping bags, fire starter, fuel tablets, light sticks, can opener, candles, large fist aid kit, and so much more.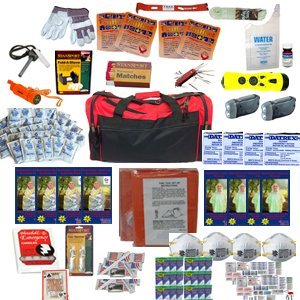 Don't be stuck without the emergency supplies you'll need!

4 Person Survival Kit Deluxe Perfect Earthquake, Evacuation, Emergency Disaster Preparedness, 72 Hour Kits for Home, Work or Auto
Site price: $199.95 (regularly $360)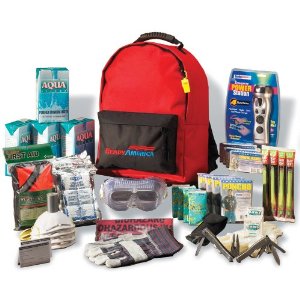 Ready America Grab 'N Go Deluxe 4 Person Backpack
Site Price: $119.88

This bright red backpack makes it easy to see in the dark after an emergency, and easy to grab and go with. You never know when or where a disaster will strike, whether at home, at work, or in your car, so be prepared!
Make sure you have enough supplies for everyone in your family, and it's always best to go big, which is why this 4-person emergency survival kit is a great way to go. Even if its just one person, the food and water supplies, plus masks, whistle, and tools, can last 12 days for one person, or 3 days for 4 people.
There are several other additions in this kit, so make sure to check it out.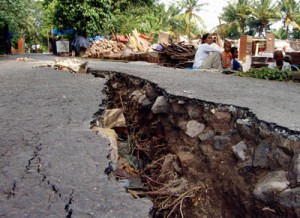 Earthquakes are naturally occurring disasters, when different tectonic plates shift in movement against one another. Where two crusts meet is called a fault-line, and there are several types, such as subduction (which involves an oceanic plate), thrust, slip, oblique, and more. They are graded in a 0.1-10.0 magnitude, and the largest one recorded since 1900 was a 9.5 in Chile in 1977. On March 3, 2011, Japan suffered a 9.0 magnitude earthquake and suffered untold damage.
Owning a kit like the ones below is a great way to attempt being prepared, but no one is ever truly prepared for a disaster. They all include some form of food or water, first aid kit, and more, and vary in sizes for 1-4 person sizes. Each comes in a bag of some sort for easy transport.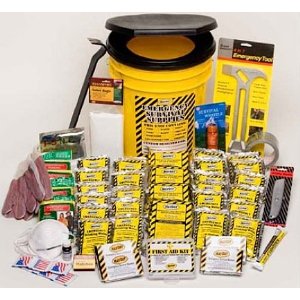 Earthquake Kit – 3 Person Deluxe Home Survival Emergency Preparedness
Site Price: $89.95

Designed for the home or office, this 3-day, 3-person survival kit comes in a 5 gallon container. That container leaves enough room for your own personal additions, and can serve as a water storage container in case of an emergency. It includes lighting, first aid, communication, food, and water in the case of a disaster, and even more, providing the necessities for fire, hurricane, tornado, earthquake, or any man-made event which may occur.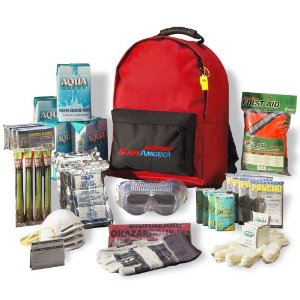 Ready America Grab N Go Essentials 4 Person Backpack
Site Price: $89.99

Are you ready for a disaster? Honestly, no one is, no matter how prepared you are. That's why companies put together grab and go kits. This one comes in a backpack, and holds the recommended supplies for 4 people for 3 days as by the American Red Cross. There is water, food, ponchos, blankets, light sticks, gloves, masks, and more. It's great for hurricanes, earthquakes, floods, and any general emergency imaginable.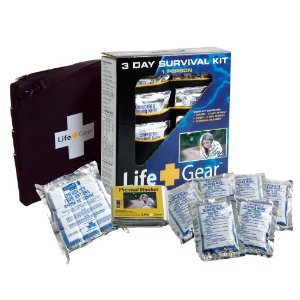 Life+Gear Life Essentials 3-Day Survival Kit, Black and Yellow
Site Price: $22.00

When disaster strikes, where will you be? This small kit includes US Coast Guard approved supplies of water and food, both with 5 year shelf lives and last you 3 days in an emergency. The thermal blanket captures 80 percent body heat, keeping you warm in the cold, The grab and go carrying case has a shoulder strap, making it easy to travel with in an emergency.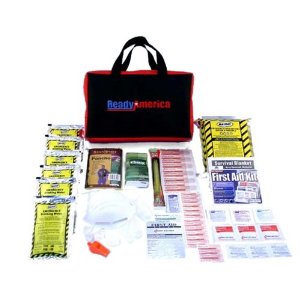 Quakehold! Grab-N-Go Emergency Kit, 1-Person 3-Day Bag

This emergency survival kit is person for one person and three days. It includes food, water, and poncho for all three days. The included First Aid kit has 33 pieces, and the lightstick provides light in emergencies. The carrying case/bag is convenient, making it easy to grab when you have to run.
Life+Gear Wings of Life Backpack with Detachable Wings and LifeEssentials
Site Price: $99.99

This kit includes a neon yellow lightweight backpack with Wings of Life–detachable strips which includes more survival supplies. There are 3 days of supplies included in the kit, including a poncho, blanket, hygiene kit, mirror, first aid kit, writing pad and pen, whistle, compass, magnifying glass, leather/cloth gloves, respirator mask, flashing light, multifunction tool, waterproof document bag. Food and water supplies have a 5 year shelf life.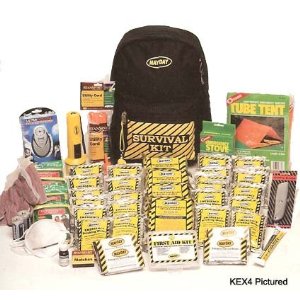 Mayday 1 Person Deluxe Emergency Backpack Kit

This grab-n-go kit is perfect for a single person, whether they store it at home, work, or in their car. It has the backpack, 2400 calorie food bar, solar blanket, pouches of water, dust mask, poncho, flashlight, alkaline "D" batteries, 2 person tent, 50′ nylon cord, light stick, First Aid kit, water purification tablets, waterproof matches, utility knife, whistle, AM/FM radio, camper's stove, and a pair of leather palm gloves.