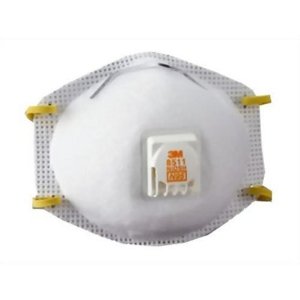 3M 8511 Particulate Sanding Respirator N95 With Valve, 10-Pack

This is one of the most comfortable respirator masks. The valve in front reduces heat, moisture and fogging, so that you can see through goggles or glasses no matter what. It is suited for work settings that involve heat, humidity, or long periods of wear.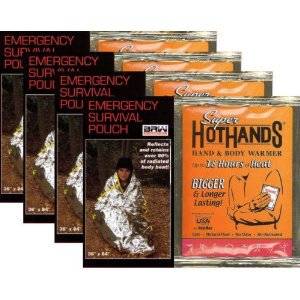 Emergency BRW Made in USA Survival Sleeping Bags – Pack of 4 Bags PLUS 4 HeatMax 18 Hour Body Warmers
Site Price: $14.00

These emergency sleeping bags are made of polyester, are waterproof and windproof, and can be used for sleep or as reflectors or ground covers. Each bag folds to about 3×5 for easy storage but folds out to 84×36. Also includes 4 18-Hour Body Warmers.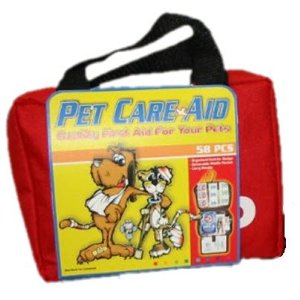 Premium Pet First Aid Kit for Dogs and Cats – 58 Piece Soft Case – For Disaster preparedness and Emergencies
This emergency first aid kit is almost a necessity for humans with pets during a disaster. It includes tweezers, scissors, gauze, cold pack, hydrogen peroxide spray, iodine, cotton tips, gloves, prep pads, a First Aid guide, and more.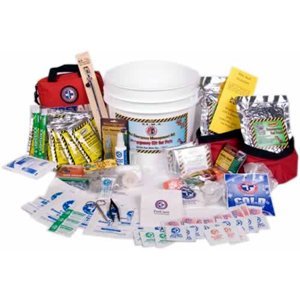 The 35-Piece Catastrophe Kit for Cats Emergency Disaster Preparedness
Site Price: $54.95

Don't forget your cat during an emergency. This pet kit contains everything you need to keep your cat alive and happy. Even though it does half the same 5 year shelf-life as human kits, this one has cat food, a blanket, light sticks, bowls, cat toy, 3 gallon bucket with lid, first aid kit, leash, collar, water, 50′ rope, poop bags, can opener, bloodstopper, and more.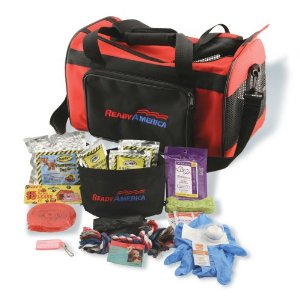 Ready America 77150 Small Dog Evacuation Kit
Site Price: $48.00

This kit is perfect for an emergency if you have a small dog. It contains enough supplies for three days. Has dog food and water pouches with 5 year shelf life, a rawhide bone, chew rope, waste bags, leash, wipes, ID tag, wipe, gauze, carrier, and more.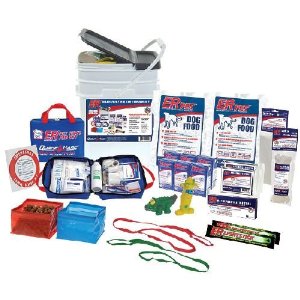 Deluxe/Multiple Emergency Dog Survival Kit

Don't forget about your pets during a disaster. A survival kit contains everything they need. This one can feed up to 2 dogs and includes: emergency dog food, water, shelter, first aid, toys, leash, bowls, light, tie-rope, sanitation and more. The food and water have 5 year shelf life.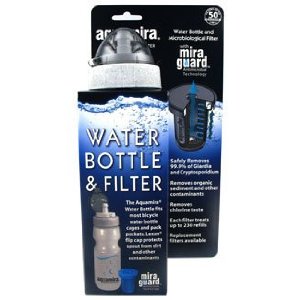 Aquamira Water Bottle and Filter Emergency Disaster Preparedness Survival Kits and Supplies
Site Price: $26.95

This water bottle makes purifying water incredibly easy, perfect for hikes as well as emergencies. You don't need any hoses, fittings, or tablets: just fill the water bottle and go. The bottle holds 22 ounces (650mL) and has a sturdy push/pull valve with a polycarbonate flip cap. A single filter can be used 230 times, and replacement filters are also available.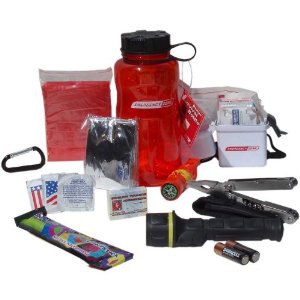 Deluxe Survival Bottle, Emergency Zone Brand, Disaster Survival Kit, Emergency Preparedness

This inexpensive kit contains the necessities for a disaster, all fitting into the 1 ML Lexan bottle provided. It's small enough for a house, car, boat, camper, locker, or office, and has a waist strap for portability. Includes the bottle, a flashlight with 2 AA batteries, box of 50 waterproof matches, a light stick that lasts 8 hours, a 5-in-1 whistle, emergency blanket, emergency poncho, a First Aid kit, multi-tool pliers, a carabiner, a waterproof document container, and a gallon zip lock bag.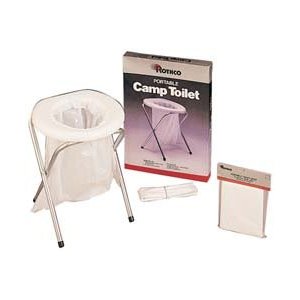 Portable Camp Toilet – Camping Commode
Site Price: $21.99

This portable toilet isn't a necessity, but some may want it in their household in case of an emergency. It is highly portable, with a heavy duty frame and plastic molded seat. It includes 6 disposable bags that attach to the chair, making disposal easier.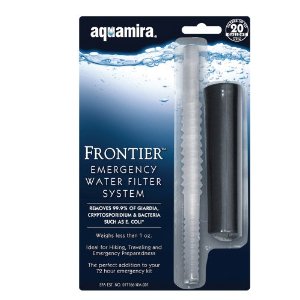 Aquamira Frontier Emergency Water Filter System
Site Price: $9.50

This little filter system is perfect for an emergency survival kit. It's small and light in a cylinder shape, with a collapsible straw. A single unit can filter 20 gallons of water before needing to be replaced.