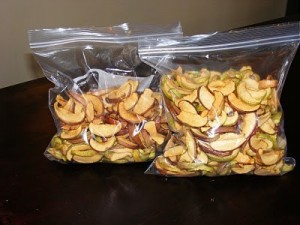 Dehydrating apples is a simple process that can be made better with a little bit of cinnamon too! They have a lot of purposes – from being eaten on their own as snakes, to adding as rehydrated goods to pies, baked goods, pancakes, oatmeals, or in stuffing.
Wash your apples carefully.
Peal your apples unless you want the skin on them.
Remove the core – an apple corer is an inexpensive item to get, and saves you a lot of work!
(optional) You can pre-treat the apples in either a Fresh Fruit Produce Protector solution, or you can use lemon juice at the ratio of 1 cup water to 1 tbsp lemon juice.
Cut fruit into desired shape – such as 1/4″ slices, wedges, cubes, or thin sliced for apple chips.
Dry the apples using a dehydrator at 100 degrees F for 8 hours, or until they are crispy.
Store dehydrated apples in a clean, dry, airtight container away from sunlight – preferably somewhere cool and dark.
How do you rehydrate?
Simply! Just soak in hot water for 15 minutes.
You can add seasoning to your apples as well right before hydrating, such as cinnamon or brown sugar to add a little extra taste to them when they are done. They can be used as just a snack on their own, or as an addition to other recipes – for breads, muffins, pies, pancakes, oatmeal, and so much more.
They are very versatile and keeping them on hand can help you make those "emergency" situations much nicer with a little bit of home preserved goodness to add to other, more blander, long term storage food.
When you need to go, be prepared! One of the major elements you need to keep in mind is food: how are you going to get it? Or cook it? That's why little lightweight s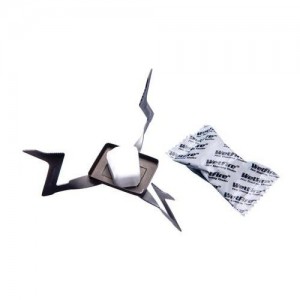 toves like this one, the Wetfire Stove, is great as an addition to any emergency disaster kit or camping pack.
This stove only weighs half an ounce; it folds up to store nicely. The fuel are cubes that won't spill in your bag or cause accidental fires. It can boil a cup of water in 5-6 minutes.
Not only can you use it for cooking food while you're trying to survive, but you can sterilize water by boiling it. It's handy to have something like this when a disaster strikes.

Store Price: $14.41 (normally 17.95)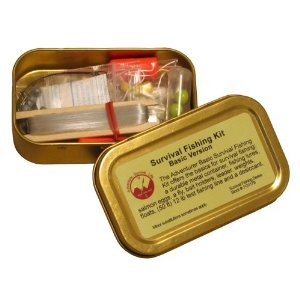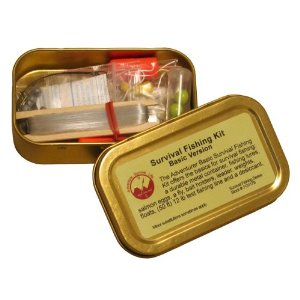 We've all heard the saying: Give a man a fish, he'll eat for the day; teach a man to fish, you feed him for a lifetime.
That's why it's handy to keep thing likes fishing supplies in every emergency kit, including your car. Fishing is a basic necessity when stuck without basic supplies.
The kit comes in a durable waterproof tin and is small, able to fit in any kit or glove compartment. It includes: Tiny Shad Jig, Swirl Tail Grub Jig, 2 1/16 Unpainted Round Jig Heads, Salmon Egg Bait, Moisture absorbing desiccant packet, line, and more.
You can add whatever else you prefer into this little kit that makes fishing for you, personally, easier.

Basic Emergency Survival Fishing Kit
Site Price: $12.95
No suturing required! This kit is perfect as an addition to a First Aid kit for your emergency preparedness. When someone keeps injured, this kit can help clean out the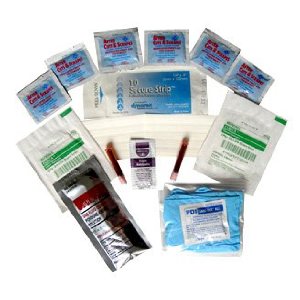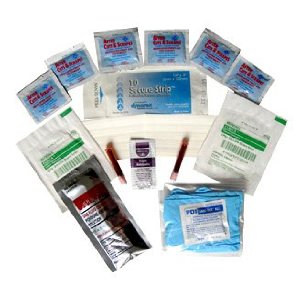 wound and close it to provide immediate care for an injured person.
This kit includes an irrigation syringe (solution not included, since it expires), wound closure strips, Benzoin Topical Adhesive, Wipes, Providone Iodine, triple antibiotic ointment, and sterile dressing gauze.
Remember: clean your wounds! Debris and bacteria is easy to get into an open wound, so keep one of these kits on hand.
These things are so small and easy to transport, it's amazing how much of a life-saver they can be during a disaster or emergency. They're little bags that, when activated, can produce up to 135 degrees Fahrenheit. The little, slim bags are the perfect size to slip into a pair of gloves or shoes, keeping your toes and hands from freezing.
On average, they last about 4-7 hours, depending on how long they've been in storage. They should be in every survival kit, whether for earthquakes, tsunamis, or fires, because at night, every where can be cold. Prevent hypothermia with these hand devices, or just use them when you're skiing or snowboarding for extra comfort (that's what I've done before).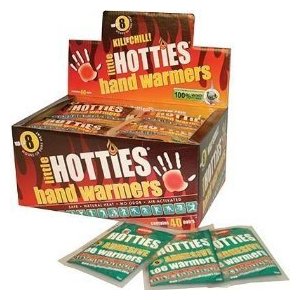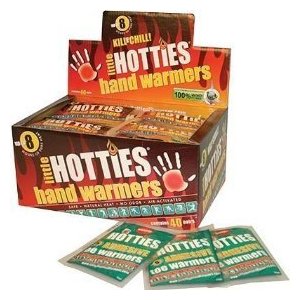 This supply of hand warmers includes 40 pairs, plus 3 toe warmers. Enjoy maximum heat in the coldest of weather with these handy devices.
With storm season fast approaching, it's a wise idea to have on hand some type of flare-gun. It makes you easy to find, no matter where you are.
This Orion Safety Alerter Coastal Signalling Kit can launch a flare 500′ into the air. It is USCG approved to work in both day and night. The flare itself lasts up to 7 seconds, and everything about it surpasses US Coast Guard requirements.
Included in this package: 1 12-guage Safety Launcher, which can shoot the flare signals up to 500′; and 4 12-guage Red Aerial Flares, lasting 7 seconds and burning at 16,000 candela.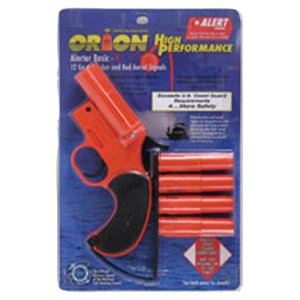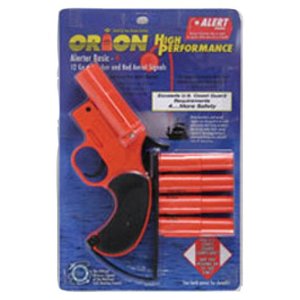 If you want a guide you can keep on hand in the case of an emergency, this book–Handbook to Practical Preparedness for the Family–is it for you. It fits your family needs perfectly, and covers all of your needs: Protection, food, water, shelter, hygiene, heating/cooling, air, medical and first aid, electrical power, light, and more!
It tells you all the supplies you will need, tell you how to prepare for the worst, and how to use what is on hand if you weren't prepared already. It will get you ready for the most deadly types of natural disasters: tornadoes, hurricanes, earthquakes, tsunamis, and floods. It has easy-to-copy worksheets so that you can keep one in each room or RV or wherever else you might need it. Helps you with elderly, pregnant women, pet owners, and people with disabilities.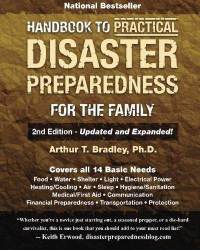 Handbook to Practical Disaster Preparedness for the Family, 2nd Edition
Site Price: $17.96 (normally $24.95)

Emergencies happen all the time, so it's important to have the right supplies on hand. Whether it just be the shock from a car accident to the shivering cold from being stranded over night, an emergency blanket can be the difference between life and death, exhaustion and comfort. Moreover, this Emergency Blanket can be used for other things: tarps, tourniquets, makeshift tent, and more.
This specific emergency blanket comes in four different colors: red, orange, blue, and olive. It's probably smart to get a bright one and a dark one: a bright one may be the visual stimulation needed for someone to find you, while a dark one would work well if trying t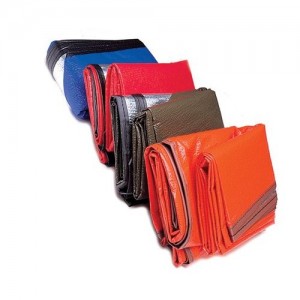 o remain hidden (who knows why).
It weighs 12 oz, making it heavier than the standard mylar blanket, but way lighter than a military blanket. It's called a space-blanket simply because the thinness, but it's re-usable (compared to mylar, awesome!), has multiple purposes, and great for a car emergency kit or general survival supplies you keep in your home.
No one knows how a disaster will effect the world around them. You may lose access to gas and electricity, especially if you're on the road when it happens. leaving you stranded and starving. If you can't get back to your house, your matches are wet, and you're absolutely starving, what can you do but try to prepare your own food?
That's where these little portable stoves come in handy. Yes, they're actually meant for camping, but the compact size, easy-to-carry and light-weight design make them ideal for emergency survival too. This one is a single burner, making it even smaller than regular portable stoves, and runs off a small propane tank.
The Coleman PowerPack Stove can use 7,500 BTU and has a range of high to low heat. The propane is controlled via PerfectFlow, keeping the pressure at an even level. It's super light-weight and becomes a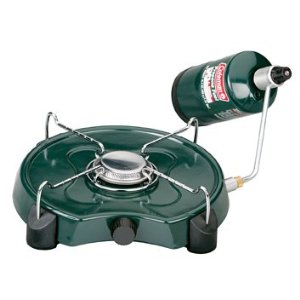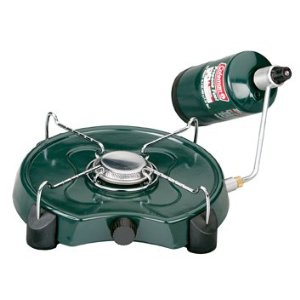 small square when packed away.
The size makes it perfect to stash in a car, motorhome, or survival kit. Don't worry about not being prepared again!
Coleman PowerPack 1-Burner Stove
Site Price: $34.99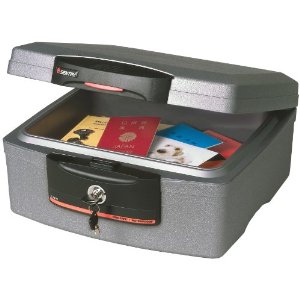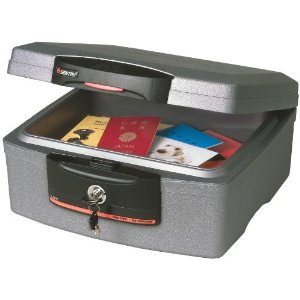 SentrySafe Fire-Safe Waterproof Chest, .36 Cubic Feet, Silver Gray
Site Price: $52.22 (usually $66.66)

What happens if your house catches fire? It doesn't have to burn to the ground to lose all your important documents, like passports, family photos, birth certificates, DVDs, CDs, USBs, and wills. What about if there is a flood? Do you want to risk those irreplaceable and important items simply due to a little water?
No. Well, I hope not! That's why it's important to have at least one fire-proof object that can hold these documents. This locked box is fire-safe for 30 minutes up to 1550 Fahrenheit. Even if it is unlocked, a latch mechanism keeps the inside contents safe from the outside world.